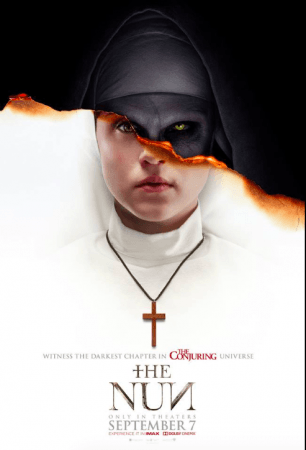 Horror films and web series' seem to be trending at the moment. There have been a swarm of horror must-watches parading on the internet! Right from Radika Apte's Netflix series 'Ghoul' to Rajkumar Rao-Shraddha Kapoor starrer 'Stree', the horror genre is getting all the love from the audience! The most awaited Hollywood horror film 'The NUN', has kept the audience waiting for a long time now and the film is all set to release tomorrow, September 7.
'The Nun' is a spin-off to the Conjuring 2 and one of the most-awaited films of the Waren's horror film universe. According to the trailer, the movie would unravel the story of Valak, the mysterious character that binds the entire horror universe together.
Ever since the release of the poster, The NUN has been a major meme game on the social media. Given that the Indian audience is so thrilled about the film, the quirky twists to the poster doesn't shock the narrative! Stepping up to the meme game, the trend catcher Mumbai Police has joined this poster meme phenomenon and aced it!
Joining the meme-fest, the Mumbai police added its very own variation and used to it pass on a message about parking.
The Mumbai police has used the film's poster with a witty caption to explain what happens when you park in a Nun-Parking zone! The police didn't stop with the morphing of the photos of the poster but it went ahead and added their own spin to the tagline as well. "Parking in no parking zones, can create real horror on streets!" the police wrote, urging people to avoid such #DarkestParkingHabit.
With this, the Mumbai Police became the clear winner of the meme game and turned a lot of heads!