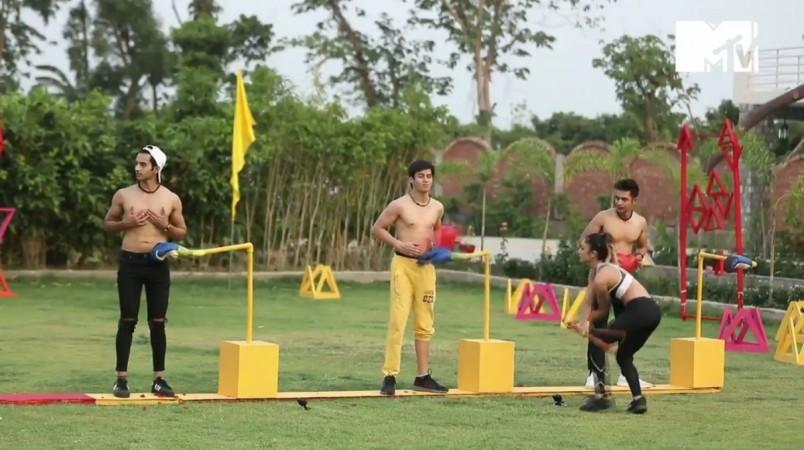 7:50 pm - Anshuman, Arushi and Shruti are safe and will go inside the dome together.
7:49 pm - Anshuman gets 50 points from Sunny Leone for being funny and the Laila of Bollywood loved watching him perform.
7:36 pm - Shagun pushes Anshuman from the ladder to get the required lead in the task. But his actions upset everyone.
7:30 pm - Now it's time for the Test Your Bond challenge. The name of the challenge is Love Is In The Hair. In the task, girls will have to apply oil by dipping their hair and splashing them on to the boys' bodies. Boys then will have overcome several hurdles in their way to win the task.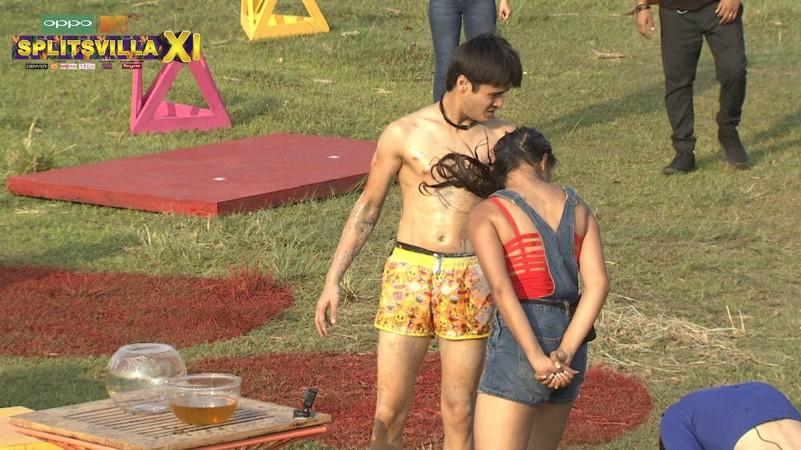 7:28 pm - Shruti keeps talking about Rohan and her chemistry with her. She tells him that Rohan will always be her first priority.
7:27 pm - Sheetal and Shagun seem to have been getting along very well.
7:26 pm - Gourav tells Anushka that he is madly in love with her but she is not really happy about it. She found him quite boring.
7:24 pm - Anshuman asks Arushi Handa to give him and Shruti some 'we time' to talk and get to know each other. Anshuman tells Shruti he likes her and the latter can't stop blushing. He wore pajamas on his first date with Shruti because once told him that if she ever goes on a date, she will wear pajamas. Anshuman's sweet gesture struck the right chord with Shruti.

7:21 pm - Shagun and Anushka get into a heated argument for choosing more than one boy for a date. Anushka gets so angry with Shagun that she tells Punit that she will go with him on date.

7:19 pm - Anshuman asks Shruti for a date. Both are flirting with each other.

7:16 pm - Arushi Handa's team wins the task.
7:14 pm - Both Arushi and Shruti's team have scored 3 all.
Roshni thinks AMA stands for After My Ass! We can't stop ROFLing after this.
Do you guys know the actual answer? Let us know in the comments below. pic.twitter.com/P5emrKArMq

— MTV Splitsvilla (@MTVSplitsvilla) August 19, 2018
7:08 pm - In the Bae Watch session task, girls are given acronym like HTML, TTYL and OOTD and they will have to give right answers whoever burst the balloon first.
7:04 pm - Simba and Monal tell that they are now open for more options. The decision has left Monal upset. Meanwhile, Shruti and Anshuman too get seperated.
7:02 pm - Rannvijay Singha and Sunny Leone interact with contestants and introduce them to the Bae Watch session.
The first ever dome session of MTV Splitsvilla 11 saw Chetan Titre getting voted out by his fellow contestants for not being up to the mark in the competition despite getting several chances to prove himself. He even had the privilege to ask the Oracle about his ideal match but he couldn't make good use of the golden opportunity to gain huge lead in the game.
After Chetan's exit, all other contestants including Shruti Sinha, Rohan Hingorani, Anshuman Malhotra, Fahad Ali, Shagun Pandey, Gaurav Sharma, Roshani Wadhwani. Marathi film actor Sheetal Tiwari, Puneet Kumar, Karan Monacha, Chetan Titre, Simba Nagpal, Kabeer Bhartiya, Anshula Dhawan, Anushka Mitra, Aarushi Handa, Arushi Dutta, Monal Jagtani and Maera Mishra are now trying create a game plan to survive on the show.
On Tonight's episode of MTV Splitsvilla 11, contestants will take part in their first Bae Watch Session called Ouch Pe Vouch in which boys are made to stand with their bare upper bodies and hold balloons in front of a punching glove. Their partners will then hit the punching glove stand with a stick and try to burst as many baloons as possible.
Keep watching this space for the live updates of MTV Splitsvilla 11.