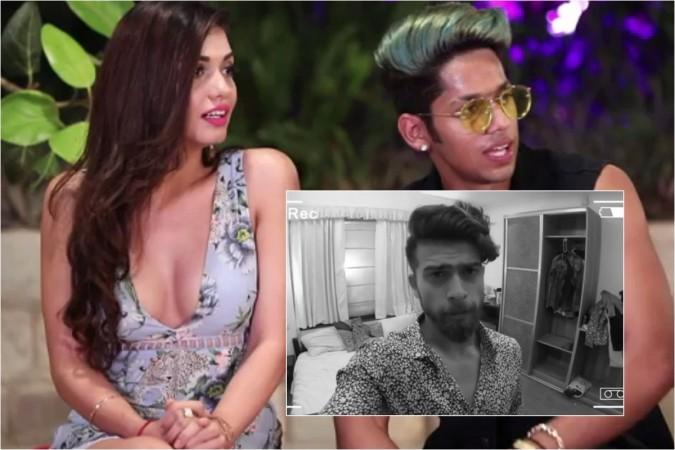 Viewers witnessed a lot of drama on the first ever dome session of MTV Splitsvilla 11. Contestant Chetan Titre, who had the privilege to ask the Oracle about his ideal match, was voted out by his fellow contestants for being up to the mark in the competition despite getting several chances to prove himself.
He was asked to leave the Villa then and there and he was even shedding tears upon his elimination. But soon after his eviction, Chetan shot a video exposing a few Villa secrets.
Opening up about the betrayal that he had suffered, Chetan revealed the names of contestants he thinks are fake on the show. He called Puneet Kumar a backstabber for changing his decision at the last minute and voting him out of MTV Splitsvilla 11.
"I have just come from the dumping round and I am feeling very bad. And I am not going anywhere. My heart will stay here in the Villa. And I would like to tell the viewers that some things that had been shown don't really meet the eye. I was right there in that dome. I could see the fakeness in everybody's face," he said in the selfie video.
"There were some genuine people too like Rohan, Simba and Gaurav, who talked good about me. And talking about Puneet, I will see you. You changed your decision at the last minute. You backstabbed me. And if I ever come back to the Villa, I am going to make life hell for these people - Puneet, Shagun and Anshuman. Shagun, veere, you've shown your face," he added.
From the very first episode, Chetan failed to impress girls and make a connection with them. He accepted it and said that he could've made relations and it was going very slowly with people but he was there only for 2 days.
"A lot of things were happening and it takes time to bring out your true personality. You just cannot judge anyone suddenly. No one," he added.
When Chetan got a chance to ask the Oracle in the secret session about his ideal match, he took Arushi Dutta's name because he had a feeling for her. But according to Oracle's calculations, the two didn't seem fit to be an ideal match which made Chetan suffer his fate on the show. Arushi even blasted him for taking her name in front of the Oracle and shouted at him "How dare you take my name" while venting out her frustration.
"There are a lot of fake people inside the villa, I'll tell you about them. Shruti became my true friend on the show and she will remain. Then Roshni and Anushka. But this girl Arushi Dutta who I genuinely thought that she could be my ideal match has been vamp everywhere. I really don't like her. I had a feeling for her but she has touched me in a brutal way," Chetan said.
All Chetan is now looking for is a second chance to prove his mettle and promises to take revenge on those who betrayed him.
"I felt really very bad when I was voted out by my fellow contestants but my heart is still there. And if I get one more chance to prove myself, there will be a relationship, there will be a game and I would definitely give my best. I am really looking forward to coming back. And yes I will come back for revenge because this is not Chetan Titre which you will see very very soon," he said.
Meanwhile, Splitsvilla 10 contestant and winner Divya Agarwal and Baseer Ali meet the contestants in the villa and introduce themselves. To make things interesting, the contestants are asked to add three hashtags to their introduction.
Keep watching this space for the latest updates of MTV Splitsvilla 11.