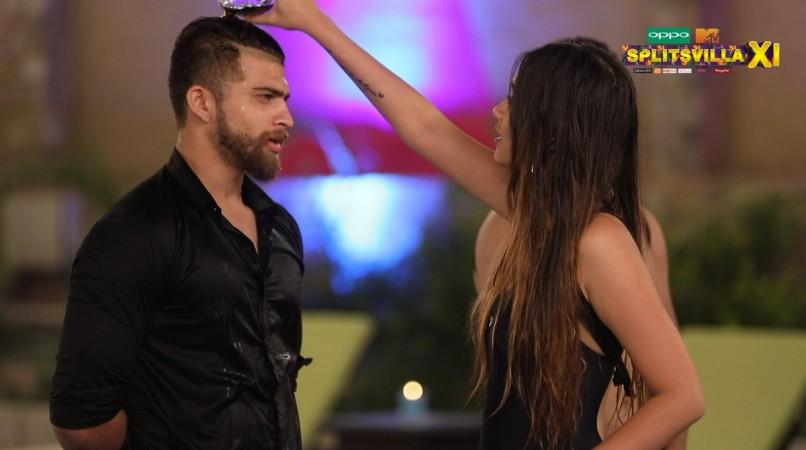 MTV Splitsvilla kicked off its eleventh season with a promising first episode last Sunday. The episode had a blend of celebrities and commoners involving ten handsome boys and nine pretty girls trying to woo each other and find their ideal match on the show.
In the very first episode, all the girls rejected Chetan Titre by pouring a glass of wine on his head for his ungentlemanly behaviour. He was spared by Roadies Xtreme contestant Shruti Sinha even though she was upset with him when he pulled her forcefully inside the pool. Instead, Shruti rejected Karan Monacha. She must be having some game plan for her action which we will only get to know in the upcoming episodes.
Chetan will now have to go in front of the Oracle in a newly introduced session called "Secret Session with Oracle" where he can tell the name of a girl who he thinks would be an ideal match for him.
If the girl really becomes his ideal match, both of them will benefit from this and give them an added advantage over other couples. However, if not, then both of them will land in trouble which may prove fatal in the competition.
After getting rejected by the Splitsvilla XI girls, Chetan's friends have naturally given up on him and it remains to be seen whether he manages to convince them and keep going forward in the show.
In the upcoming episode on Sunday, all the boys and girls will compete in their very first "Test Your Bond" challenge which will help the contestants to check how compatible they are with each other and choose their partners wisely to remain strong till the end of the show.
We saw Chetan's ungentlemanly behaviour in the last episode, naturally, his friends have given up on him. On the other hand, there's Anushka who just can't stop crying! The next episode is gonna be really dramatic! How excited are you?@RannvijaySingha and @SunnyLeone pic.twitter.com/UB7bpguyPe

— MTV Splitsvilla (@MTVSplitsvilla) August 9, 2018
Meanwhile, they will also be able to express themselves and share their secrets with "The Listening Tree" which is expected to be loaded with unheard confessions.
In the promos, Shagun Pandey can be seen confessing in front of The Listening Tree that he is not able to connect with the girls who have participated in Splitsvilla XI. He claimed that girls would be tremendously hot and sexy.
In another promo, Arushi Dutta expressed her disappointment about Chetan's stripping act while humming the Pani Da Rang song to impress the girls and how it was her biggest turn-off. She let her frustration out by saying that if she is asking any boy to strip for her, she expects him to take off his clothes while singing some sensuous song to turn her on.
"Paani da rang gaate hue kaun strip karta hai?"
Arushi Dutta can be seen making some real AF confessions on the next session of #LeavesDropping.
What do you think it's going to be about? Boys? Girls? Food?
Watch her as she talks to the Listening Tree about what's troubling her. pic.twitter.com/sqgTZPaMgN

— MTV Splitsvilla (@MTVSplitsvilla) August 10, 2018
Jo koi nahi sunn sakta, woh yeh sunn leta hai! It knows all the secrets and has heard all the confessions. Presenting, the Listening Tree! We kickstarted the first session of #LeavesDropping with Shagun. Miss this interesting piece of goss at your own risk. pic.twitter.com/iXEUgxnOZI

— MTV Splitsvilla (@MTVSplitsvilla) August 9, 2018
The episode will surely be loaded with dramatic events, heated arguments and disagreements. Keep watching this space for the latest news updates on MTV Splitsvilla XI. The reality dating show airs every Sunday at 7 pm.