7:58 pm - Rhea and Aishwarya are the last two contestants. While Rhea gets eliminated, Aishwarya gets her last chance to be in the competition.
7:56 pm - And now it's time for the first elimination.
7:55 pm - Malaica gets praised for her poses.
7:54 pm - Riya gets a piece of advice from Anusha, "There's a fine line between sexy and slutty. If you can't control that, it looks cheap."
7:53 pm - Urvi gets lauded for turning her disadvantage to her advantage.
7:51 pm - Rhea and Shalu gets slammed for not performing at their full potential.
7:50 pm - Rushali too gets criticised for quitting early. Meanwhile, Aishwarya looks disinterested to the judges.
7:49 pm - Asma gets heavily criticised for her poor performance. Malaika tells her it will very tough for her because she doesn't fit anywhere.
7:47 pm - Judges tell Tamanna that she lacked fire whereas they laud Nisha for performing well despite having a disadvantage.
7:44 pm - Girls will now be evaluated on their underwater and fire photoshoot. And based on it, the contestant who failed to impress the judges will be eliminated tonight.
7:42 pm - Rushali failed to utilise her time. Other contestants Aishwarya and Shalu struggle as well.
7:40 pm - Nervous Asma struggles to pose with Milind Soman but she somehow manages to make a comeback.
7:38 pm - Malaica instructs Milind Soman to use her height to her advantage. They performed beautifully together.
7:37 pm - Urvi now performs blindfolded. She looks confident and seems to be using her disadvantage wisely.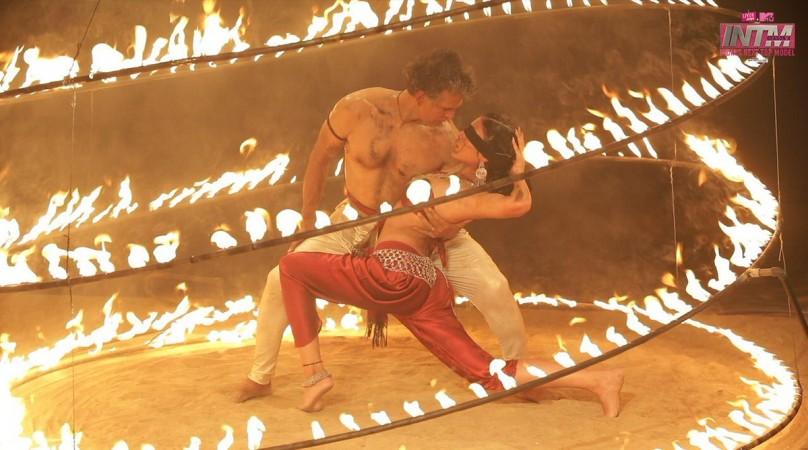 7:37 pm - Tamanna gives a hot performance. She strikes a confident pose with Milind Soman.
7:36 pm - Shefali quits the task as soon as her accessories get hot.
7:33 pm - Now Riya enters the spiral. Riya preys on Milind Soman like a hungry lioness.
7:32 pm - Nisha will be performing with Milind Soman blindfolded. Urvi is getting worried because of the disadvantage. Riya likes Nisha's performance.
7:31 pm - Milind Soman instructs models that they will feel the heat inside the ring of fire and they will get only 25-30 seconds to strike their poses.
7:29 pm - Based on the performance in the ring of fire photoshoot with Milind Soman, one girl will get eliminated. The photoshoot will be done by Dabboo Ratnani.
7:28 pm - Tamanna uses her power and replaces Asma with Nisha and Aishwarya with Urvi because she want to eliminate her competition. But its different with Nisha. She nominated Nisha because she doesn't like her.
7:26 pm - Now comes the intimate photoshoot task with Milind Soman.
7:23 pm - Aishwarya and Asma get voted out. Meanwhile, Tamanna has won the underwater photoshoot challenge as she managed to impress Anusha and photographer Shweta. She gets one power to replace two girl with the last two models and nominate her elimination.
7:21 pm - Neeraj shows models photographs of their underwater photoshoot. He asks models to name two contestants who according to them were the worst in the task.
7:19 pm - Asma says she is nervous to perform the task in bikini. She is thinking what her family will think if they see her in bikini on TV. Anusha is trying to motivate her but Asma doesn't look comfortable at all. She looks quite afraid. However, she manages to strike a few poses. Anusha lauds her for overcoming her fear of wearing a bikini and going underwater.
7:18 pm - Rhea too struggles underwater.
7:17 pm - Ria didn't understand what was happening underwater and how to pose. But she made sure she was underwater for a long time.
7:15 pm - Tamanna mocks Nisha as soon as the latter says she has aquafobia. Nisha performs but makes Tamanna laugh with her acts. Anusha pushes Nisha to perform better but she couldn't get through.
7:14 pm - Urvi is not able to perform the task at her full potential. But as soon as Anusha encourages her, she gives her best poses underwater.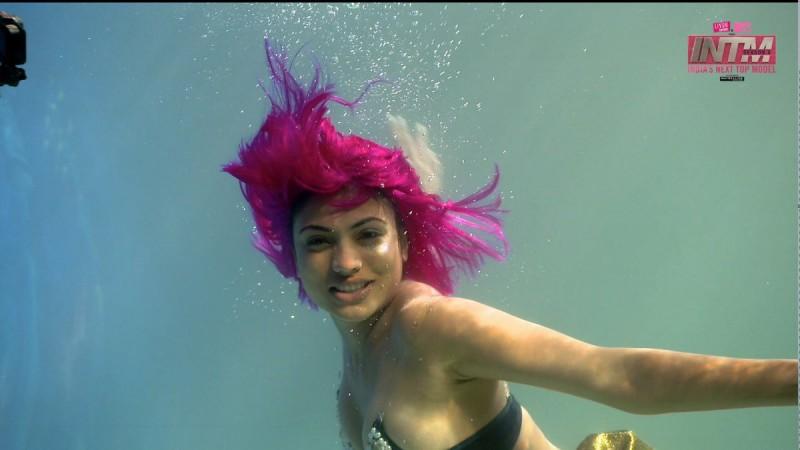 7:13 pm - Tamanna has impressed Anusha with her performance. She performed the task with so much ease underwater that she swam like a mermaid.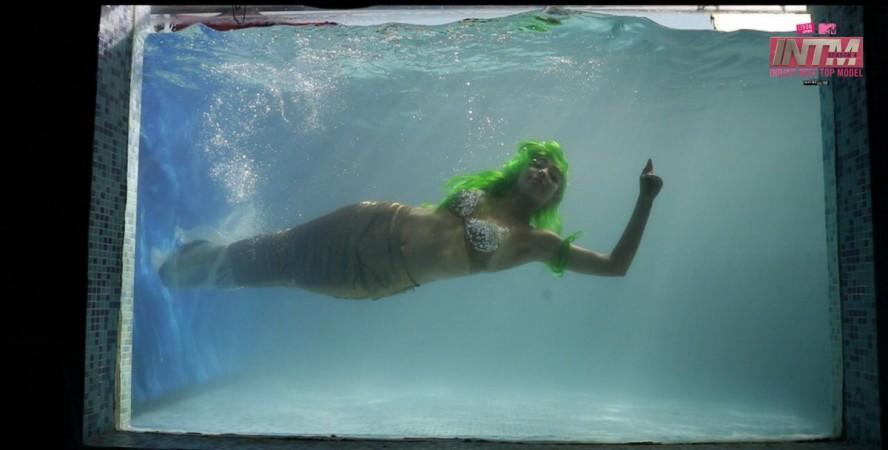 7:12 pm - Malaica, on the other hand, performs exceptionally good compared to other girls who had their chance earlier.
7:11 pm - Aishwarya terribly fails in the underwater photoshoot task.
7:10 pm - Now Vrushali enters the pool. As soon as she goes underwater, Vrushali realises that she is not meant for it.
7:08 pm - Shalu Ojha is the first model to enter into the pool. Anusha will be by the poolside to guide the contestants. Shalu starts suffocating as soon as she goes underwater. Anusha pulls her out at the right time. Shalu is really struggling to pose underwater.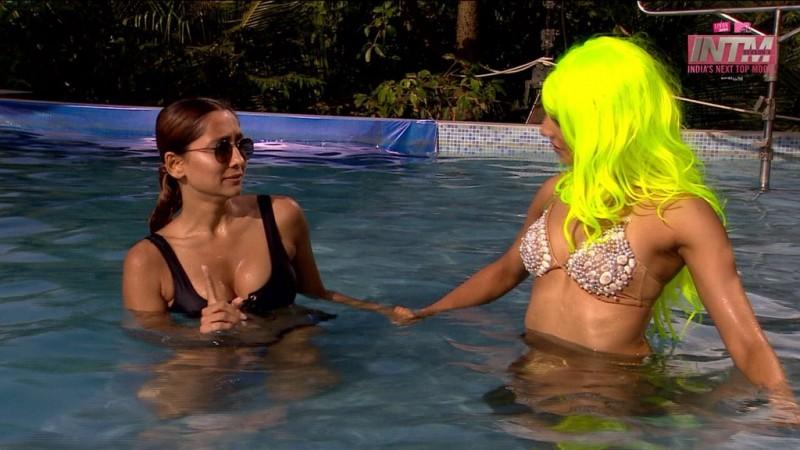 7:05 pm - Anusha introduces photographer Shweta Desai who would be taking photographs of the girls who would be posing underwater. Girls will have to dive underwater towards the window and pose. Their legs will be tied which will make the task even more difficult. Each model will be getting 3 mins to perform at their full potential.
7:04 pm - Nisha and Tamanna get into a heated argument. Nisha accuse Tamanna of criticising her for her farmer background. Anusha tells them instead of showing off their anger inside the house, show it off in the tasks.
7:02 pm - Models now approach swimming pool where VJ Anusha explains how they would be performing the underwater photoshoot task.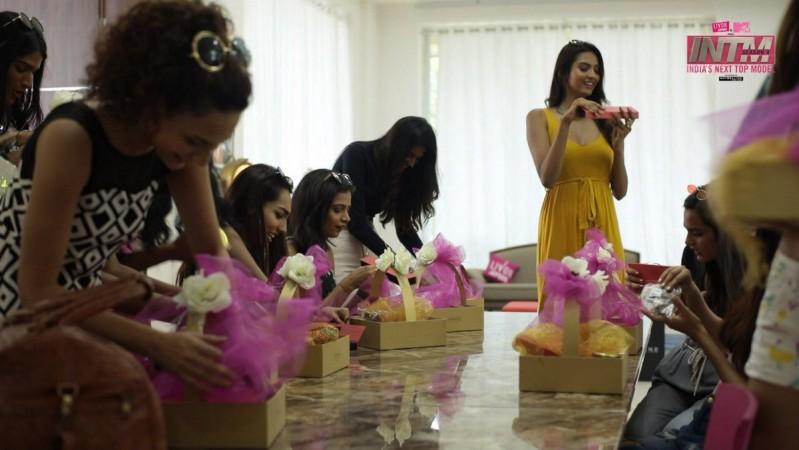 7:01 pm - Top 11 models enter the model house for the first time. Girls are going gaga over the lavish interior, spacious rooms and customised gift hampers.
Last week on MTV India's Next Top Model 4, Malaika Arora Khan announced top 11 girls of the show who will be competing against each other to bag the winner's title. The models will now be seen going through some tough tasks which will decide their fate in their journey to become a part of the modelling industry.
In tonight's episode, top 11 girls will be seen performing underwater photoshoot where they will be asked to pose underwater. It remains to be seen to what extent, the girls will be able to hold their breath and pose underwater.
In another task, girls will be seen doing an intimate photoshoot with Milind Soman inside a ring of fire.
Stay tuned to IBTimes.co.in for the live updates of MTV India's Next Top Model 4.