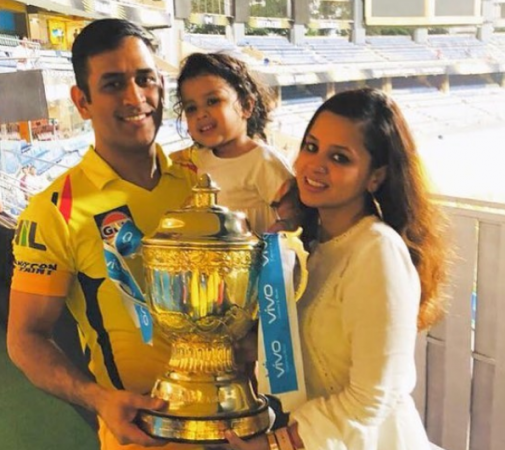 Shane Watson's stunning innings helped Chennai Super Kings win the Indian Premier League 2018 but it was CSK captain MS Dhoni's daughter Ziva who won hearts after the game. While the Indian wicketkeeper resorted to what he does the best, let the team cherish the victorious moments and hold the cup, MSD was seen enjoying CSK's victory with his adorable daughter.
Videos from the match show Dhoni twirling Ziva around after his team won the title for the third time in the tournament. Dhoni and Ziva made hearts warm when CSK captain chose to prioritise Ziva over the team victory photographer.
Later, she was seen in her father's arms while he greeted everyone. After the celebrations simmered down, the cricketer took to Instagram and revealed what she actually wanted to do.
Holding the cup for the third time in the tournament, Dhoni shared a picture with his wife Sakshi and Ziva on the photo-sharing platform. He thanked everyone for their support and acknowledged the "shocking" innings played by Watson in the caption.
He then gave away Ziva's thoughts post-victory and wrote, "Ziva doesn't care about the trophy, wants to run on the lawn according to her wordings." While she may not have got the opportunity to play on the lawn, she was photographed mingling with other team players and organising committee on the field.
Before the match kicked off, the adorable star daughter was seen in the players' hotel riding a lion and preparing to roar.
Check out all the adorable videos and photos of Ziva from IPL 2018 finals here:
Ziva has had a fun summer thanks to IPL 2018. The four-year-old internet sensation was seen giving company to her mother in all Chennai Super Kings matches. Through the summer, she was photographed making faces with Kolkata Knight Riders' owner Shah Rukh Khan, demanding for her dad so that she could bestow him with hugs, dance for Dhoni and Sakshi and more.