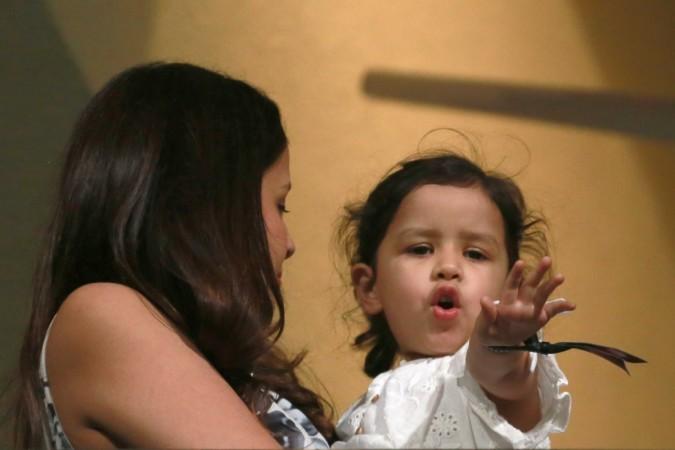 Bringing an end to the 'round-robin league stage' of the IPL 2018, MS Dhoni-led Chennai Super Kings beat R Ashwin's Kings XI Punjab by five wickets at the Maharashtra Cricket Association Stadium, Pune (CSK's home ground), on Sunday.
The visitors were supposed to beat the Chennai lions with 53 runs or more in order to qualify to go forward in the league. However, the stunning CSK victory chased the Kings out of the IPL this year. After the match, Dhoni celebrated the victory with his adorable daughter Ziva.
The father-daughter duo left the crowd in the stadium, everyone watching at home and the internet in awe after they were spotted playing on the field post the match. In the video, Dhoni is seen playing hard-to-get while Ziva chases him.
Ziva then takes off his CSK cap and makes her daddy proud by identifying the lion logo on his cap. An excited Ziva then runs away from her dance and jumps into an impromptu dance for the camera.
Dhoni's daughter was seen wearing a cute little floral dress on the occasion. She has been accompanying her mother, Sakshi Dhoni, and the CSK team during the IPL 2018.
The daughter is extremely attached to the CSK captain, a few glimpses of which we've seen over the tournament. There was a moment during the IPL when Ziva demanded that she is taken to her dad so that she could hug him.
In other videos shared by Dhoni, Ziva is seen getting her hair done by her father and dancing to a few songs in the hotel room.
Check out adorable videos of Ziva from IPL 2018 here:
Chennai Super Kings, who returned to IPL after a ban of two years, have been on the best of their game. The team stands second on the match table, with Sun Risers Hyderabad on top of the table. Kolkata Knight Riders and Rajasthan Royals stand third and fourth on the table, qualifying for the for the next stage of the tournament.