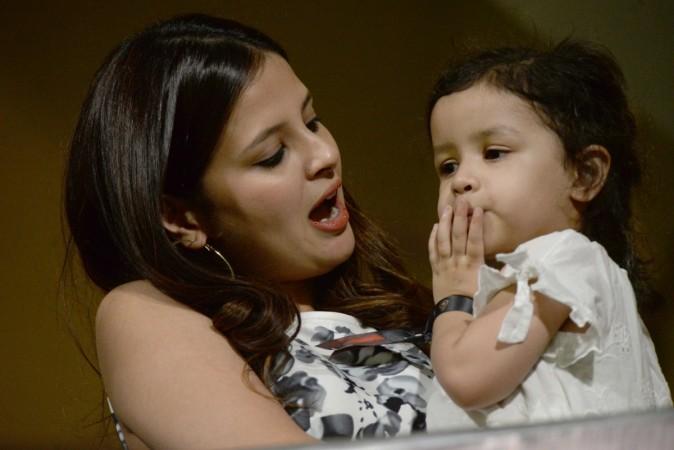 Royal Challengers Bangalore clashed against Chennai Super Kings April 25 in Bengaluru.
The Kings beat the Challengers by five wickets after the hosts gave the visitors a target of 206 runs.
Virat Kohli and MS Dhoni put up a nail-biting show when their teams, Royal Challengers Bangalore and Chennai Super Kings, clashed at the Chinnaswamy Stadium in Bengaluru. The home team put up a brilliant 205 runs score for the visitors to chase. CSK won by 5 wickets.
While Dhoni won millions of hearts after his stunning finish, his daughter bowled over several fans as well. Ziva was in the stands with her mother Sakshi Dhoni, giving the cricketer's wife company through the tense match. And she was doing what she does the best: being adorable.
The match clearly did not bother the three-year-old. She was having a time of her own while her mother cheered for Dhoni. During the match, Ziva was photographed making faces while Sakshi held her in her arms.
Onlookers captured her adorable reactions and shared it online. Baby Ziva's recent outing comes days after a video featuring the star kid went viral. In the video, Ziva is seen demanding that her father attends to her right away. When asked why, in all cuteness she says that she wants to hug her father.
While the two Indian cricketers were fighting to win on the pitch, their wives – Anushka Sharma and Sakshi Dhoni – were on the edge of their seats. Several photos show the two wives standing up to show their support to their husband. While Anushka had a friend to stand by her during the match, Ziva acted as a stress buster for Sakshi during the match.
Anushka was seen decked in white tee and blue pants, embracing the summer. Her wedding ring drew a lot of attention. Meanwhile Sakshi was seen in a floral printed outfit.