There is no stopping South Korean boy band, Bangtan Sonyeondan. After debuting at Billboard Music Awards and being lauded by South Korean President Moon Jae-In, they are now becoming most wanted endorsement models, leaving behind popular South Korean stars like Song Joong-Ki and Gong Yoo.
Descendants of the Sun star Joong-Ki and Goblin actor Yoo are still among the top stars in the endorsement world, but BTS seems to be rapidly catching up with them. Top brands are approaching the boy band to make them their brand ambassadors and they are also ready to pay a hefty amount for the same.
"Everyone is dying to get BTS to become their model. The reason is that with BTS, the brand value goes up and they can get effective marketing with their global popularity. Currently, BTS is the #1 wanted endorsement models," AllKPop quoted an advertisement expert as saying.
Another expert told the daily that companies are approaching BTS because they have higher guarantee than stars like Joong-Ki and Yoo.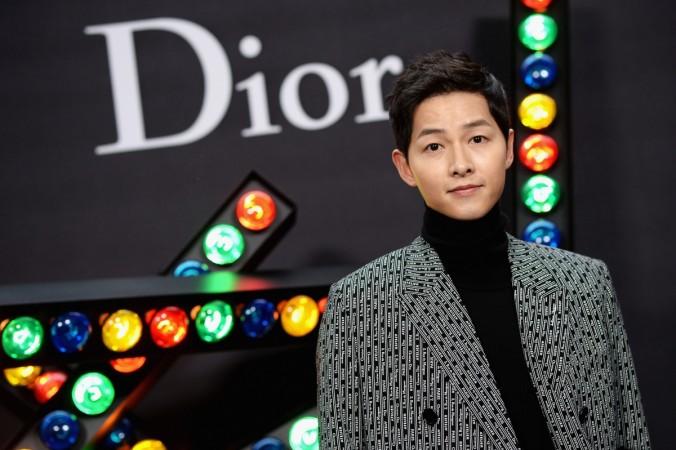 "The top class male models in the field are Song Joong Ki and Gong Yoo. The two people receive about 900 million KRW (834,879 USD) ~ 1 billion KRW (927,644 USD) per endorsement. However, BTS has a higher guarantee than them. Whichever amount BTS' side calls becomes their payment," the expert said.
However, an associate from a company revealed to the publication that owing to the band's busy schedule, it is impossible for them to sign brands for endorsement. Endorsing products requires filming, poster shootings and attending fansign events, but the band is busy with their new album.
"It's rumored that they can't film any more CFs because they can't adjust their schedule," the associate said.
BTS is growing in global popularity with each passing day. Their new album Love Yourself: Tear topped the Billboard 200 music charts, becoming the first K-pop band to top it. Later, president Jae-In praised the boys and shared a letter congratulating the band for making everyone proud.