US President Donald Trump and First Lady Melania Trump arrived in China on Wednesday, but it was his granddaughter who charmed Chinese President Xi Jinping.
Arabella Kushner, the six-year-old daughter of Ivanka Trump, is already an internet sensation in the country. Now she is winning hearts of Jinping and Chinese first lady Peng Liyuan.
Trump showed the videos of Arabella to Jinping when the two leaders met for tea at the at Bao Yun Lou in the Forbidden City in Beijing.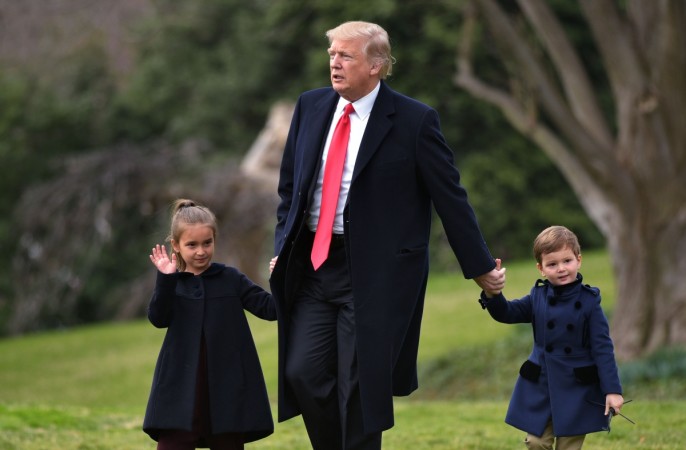 The video showed Arabella singing a Chinese song and reciting poetry in Mandarin. The eldest child of Ivanka opened her performance with greetings to Jinping and his wife. "Hello, Grandpa Xi. Hello, Grandma Peng," she said and sang a song for them.
Jinping applauded the six-year-old for her performance and said she deserved an A+ for her talents. "Full score. She is being a little star for her grandpa," he said praising her.
Jinping and Liyuan had met Arabella in April when visiting Mar-a-Lago. She had at that time sung the popular Chinese folk song Jasmine Flower song and recited poetry.
Arabella started learning Mandarin from the private Carousel of Languages school in Manhattan when she was three years old. Joseph Kushner, four, and one-year-old Theodore Kushner are also trying to learn Mandarin.
Arabella became a sensation on Chinese social media site Weibo during the Chinese New Year this year after a video of her singing Happy New Year with a Chinese marionette went viral.
Ivanka shared the video on Instagram in February with the caption: "Arabella singing a song she learned for #ChineseNewYear. Wishing everyone an amazing year to come during these days of celebration."
Weibo users commented saying they would prefer Arabella over Trump, according to the New York Times. "The granddaughter is much more sensible," one Weibo user said. "Her Mandarin is perfect," added another.