Soon after the official launch of the Android Oreo to Google Pixel series, many Android affiliated phone-makers such as Sony, OnePlus, Huawei and HTC, among others announced respective list of devices eligible for Google's chocolate-milk cookie flavoured OS.
But, Lenovo-owned Motorola, in bid to outrank rivals, has not only revealed the Oreo-worthy devices, but also gone a step ahead by launching dedicated software tracker–page, where-in Motorola patrons can get latest information on Android mobile OS release schedule anywhere at any time.
Motorola, after facing backlash from fans, has revised the list by adding Moto G4 Plus on its website.
Read more: It's CONFIRMED: Android Oreo coming to Motorola Moto G4 Plus
Here's how to check whether your Moto series phone is eligible and when it will get Android Oreo:
Interested Motorola smartphone users can log into the official company support page – HERE (US), (HERE)Latin America, Mexico and Caribbean, HERE (France), HERE (United Kingdom) HERE (Other Europe, Middle East and Africa), (HERE) Asia Pacific and HERE(India) to track the Android Oreo OS release status in real time.
Other global region users can log in HERE, select your area and device and get the Android Oreo software release status.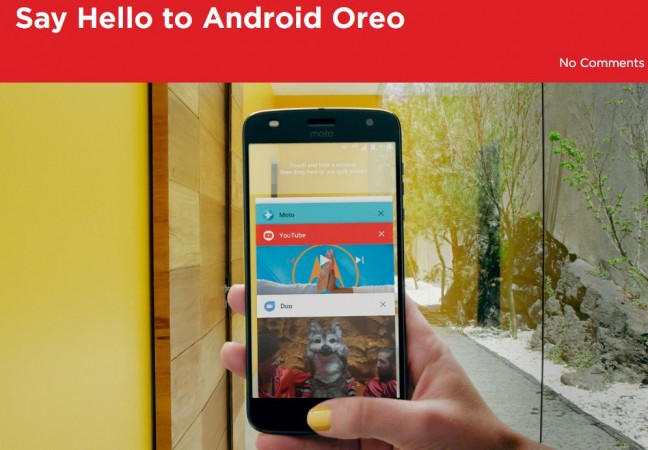 Motorola Moto series phones eligible for Android Oreo update:
The company has confirmed the release of the chocolate cookie-flavoured mobile OS update to the Moto Z2, Z2 Play, Z2 Force, Moto Z (and also Droid series), Z Play (and also Droid series), Z Force(and also Droid series), Moto X4, Moto G5, G5 Plus, G5s, G5s Plus and the Moto G4 Plus.
What's coming in Android Oreo update?
Android Oreo comes with numerous improvements over the 2016-series Android Nougat software, such as faster booting time, extended battery life, more fluid experiences to phones, latest security patches via Google Play Protect that automatically checks malware inside all the applications installed on the mobile.
Another key aspect of Android Oreo is the Rescue Party feature, which helps the device to recover from constant boot loops.
Android Oreo also brings several new features such as picture-in-picture, which allows users to do two tasks simultaneously, like checking the calendar while planning a party on a Duo video call. And Smart Text Selection improves copy and paste. With the help of machine learning to recognise entities on the screen — like a complete address — users will be able to easily select text they want with a double tap, and even bring up an app like Maps to help during navigation.
Stay Tuned. Follow us @IBTimesIN_Tech on Twitter for latest updates on Motorola products and Google Android Oreo release schedule details.