After launching the much appreciated Safety Check feature and Suicide Prevention tools, social media mogul Facebook has come up with another novel idea of connecting people to life-saving blood donation groups.
Facebook's new 'Blood Donor' group initiative is going live on October 1 in India, which also happens to be the 'National Blood Donor Day'.
"Today, we're [Facebook] announcing a new effort to make it easier for people to sign up to be donors and a new way to connect people and organizations with information and tools to find blood donors when needed. We have worked together with nonprofit organizations, health industry experts, potential donors, and people who have used Facebook to find blood donors to ensure that what we are designing will be useful to people in India," Hema Budaraju, product manager, health, Facebook, said in a statement.
Here's how to sign up for Facebook Blood Donor group:
Initially, Facebook will post messages and links on 'Blood Donor' feature via News Feed. Once you see, click it and follow the procedure as mentioned and tap the blood type you have. You will also get the option to set the privacy level.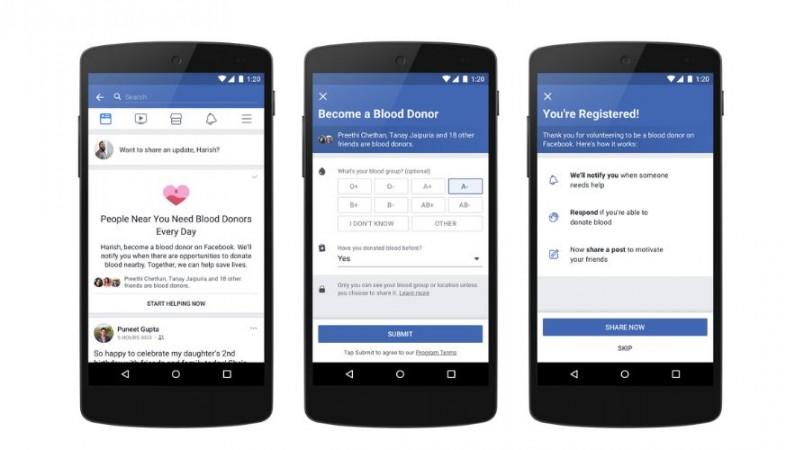 Also, try to answer some survey questions such as 'Have you ever donated before' and others and tap the submit button at the bottom to complete the formalities. Then, you will get the message that you have successfully registered for the programme.

When a request is created, Facebook will automatically notify blood donors who may be nearby to help spread the word. Donors can then review the request and, if they wish to respond, contact the requestor directly through WhatsApp, Messenger or a phone call, the company said.
If you choose to give personal details to the recipient, he/she will directly call you for blood donation or else click 'Only me' so that you get only the notification from Facebook.
Facebook is also expected to add 'Blood Donor' registration link in user profile page in coming days.
Follow us @IBTimesIN_Tech on Twitter for latest updates on new Facebook features.