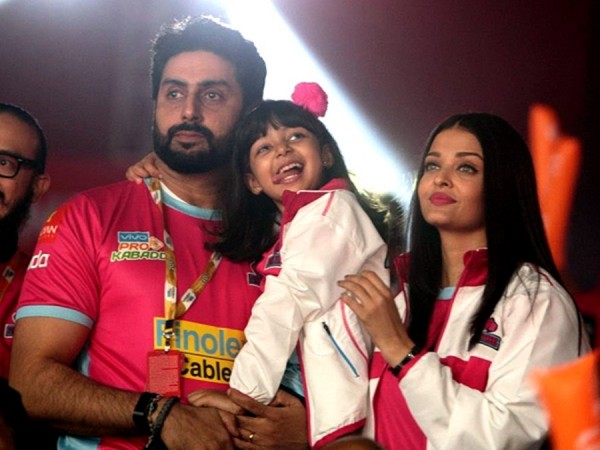 Aishwarya Rai Bachchan, who was voted the 'Ideal Celebrity Mom' in Bollywood, is cherishing her motherhood with daughter Aaradhya and family.
The former Miss World gave birth to daughter on 16 November, 2011, and since then she has been on a break from films to take care of her now 17-month-old daughter, Aaradhya. Even after two years, the actress is in no hurry to sign any film project.
"I don't believe in comebacks. When was I away from the industry that I have to make a comeback now? I was always involved in it, so there is no point, in terming it as a 'comeback'," Aishwarya told The Times of India.
Since the birth of Aaradhya, the 39-year-old actress has been quite busy with daughter and family. She doesn't like to term her gap from film industry as break.
"Yes, I was enjoying a slight break with my daughter and I thoroughly loved it," the actress said.
"Motherhood is a whole book in itself. It has changed me and enhanced me as a person. I cannot put it simply in answer," Aishwarya said.
Aishwarya has always been a doting and caring mother. She never leaves her daughter away from her even when she is travelling abroad for her work.
During an interview with Anupama Chopra on Star World, the beauty queen said that motherhood is a huge experience.
When asked if there is any conflict between motherhood and a career, she replied saying "I say it even today, as I would at the beginning of my career. The key word here is "commitment." You take on more in your life if you can remain committed to whatever means the world to you. Your child, of course, means the world to you but so does your husband, so do your parents."
"The day I got married and I had a husband and in-laws in my life, my parents didn't cease to be less important. The fact is that everyone remains a priority in your life. I still took on work that I knew I could commit to and that is pretty much the way I will continue my course of life. I keep saying that it is about finding that balance that you know you can commit yourself to and remain committed to," she added.