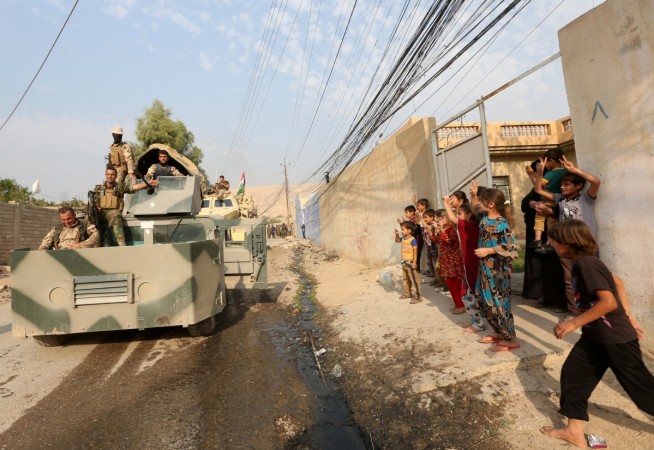 The Iraqi Army is trying to reach the villages near Mosul where the Islamic State of Iraq and Syria (ISIS) terrorists are holed up with innocent residents, using them as shields. Dozens of villagers, mostly prisoners, have been executed by the jihadist group to quell them from supporting the US-led ground offensive.
The army and the central police units have been fighting against sniper fire and suicide car bombs near Hammam al-Alil, where the executions reportedly took place, an Iraqi military spokesman said.
Former Iraqi police and armymen, who had been taken as prisoners from villages the jihadi group abandoned while being pushed back by the troops, have reportedly been shot in dozens, officials told Reuters on Wednesday.
The shootings were meant "to terrorize the others, those who are in Mosul in particular," said Abdul Rahman al-Waggaa, a member of the Nineveh provincial council. The group is also trying to get rid of the prisoners as they were slowing the group down.
Reports of hundreds being killed around Mosul, the second largest stronghold of the group, have been doing the rounds.
"I'm afraid they will keep pulling them back from village to village until they get to Mosul. And then they will disappear," a police officer, who had left his family behind when it fell under ISIS control, said.
Hostages have reportedly been used as human shields since the offensive began 11 days ago.
ISIS terrorists reportedly released children and the elderly after they walked 30-50 km from their villages to Mosul.
The army has Mosul surrounded, but the terrorist group has been putting up a strong front in the southern side forcing a stronger offensive in the eastern side from the army.