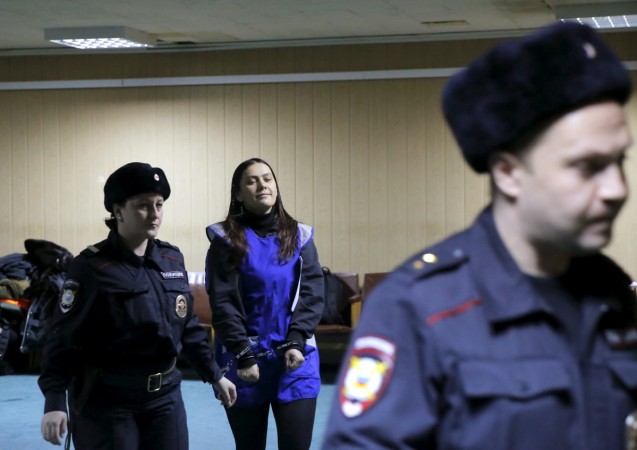 A woman in Moscow, who was recently arrested after she was seen brandishing a child's head near a metro station, has said her act was in revenge for the Muslims killed in air strikes by Russia. She reportedly said this in a video that surfaced online Thursday.
Gulchekhra Bobokulova, a 38-year-old mother of three from Uzbekistan, was the nanny of a four-year-old girl whom she has been accused of murdering. The woman was seen Monday near the Oktyabrskoye Polye Metro Station with the head of the girl, before being arrested by the police. She was apparently shouting, "Allahu Akbar." During a court hearing Wednesday, the woman allegedly said "Allah ordered" her to behead the child.
"I took revenge against those who spilt blood," Bobokulova is seen saying in the video, according to Reuters. "Putin spilt blood, planes carried out bombings. Why are Muslims being killed? They also want to live."
She also said she wanted to relocate to Syria, but did not have the financial resources.
In the video that surfaced Thursday, the woman is reportedly seen wearing the same clothes worn during the hearing Wednesday, the news agency said.
Investigators are also looking at a possible terror link. Contact details of two people related to an extremist group have been found on one of the electronic devices owned by the woman, reports the Telegraph. Her mental health has also been questioned, with psychiatrists slated to analyse her during the investigation.
"During analysis of contacts saved in Bobokulova's electronic devices, investigators identified two subscribers connected with an international extremist group," a law enforcement source was quoted by the Telegraph as telling Interfax.
Investigators suspect she was instigated by extremists as she was mentally ill, and hence, susceptible to their influence.
Her accomplices are at large, the Telegraph quoted an investigator as saying Wednesday during the hearing.
She has been detained till April 29.