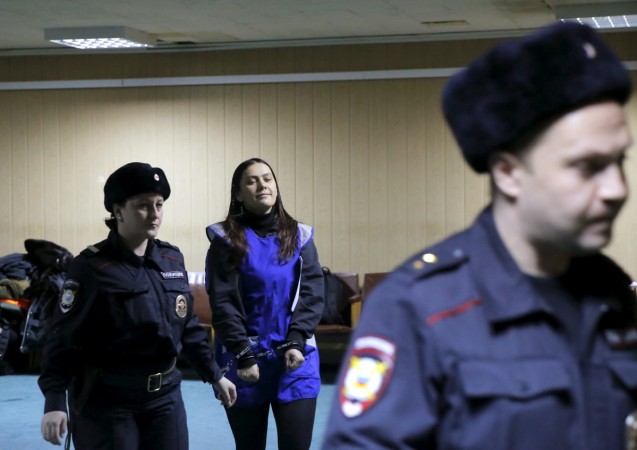 A woman arrested Monday after she was seen waving a severed head of the child near a metro station in Moscow and screaming "Allahu Akbar", said in a court hearing Wednesday "Allah ordered" the beheading of the young girl. She has been detained till April 29.
On Monday, the Muslim woman, Gulchekhra Bobokulova from Uzbekistan, appeared before the court for the murder of four-year-old Nastya M Bobokulvo. She was Nastya's nanny for two years, and severed the child's head when the parents left with the other child. She then set fire to the apartment and left. She was later found near the Oktyabrskoye Polye Metro station allegedly shouting, "Allahu Akbar, I am a terrorist, I am a suicide bomber," according to RT.
AFP quoted the woman as saying in court Wednesday: "Allah is sending a second prophet to give news of peace." The mother of three also said, "Hi everyone" and that she had not been fed and would die in a week.
The "bloody nanny" admitted in court she was guilty.
The court ordered that Bobokulva be held for two months while the investigations proceed. Psychiatrists will be part of the investigation to check her mental health. Investigators have not ruled out the possibility of she being instigated as they said mentally ill people are easily instigated, reports RT.
The police are trying to identify her boyfriend, who she mentioned during the hearing. Investigators are trying to ascertain if she had an accomplice. A police source reportedly said she was under the influence of drugs when arrested.
The nanny was living in Moscow without a work permit and was reportedly treated as a member of the murdered child's family. The child was suffering from a severe nervous disability, reports RT.
The Moscow Police's competency has been questioned as the woman allegedly roamed the streets for 20 minutes before the cops caught her.