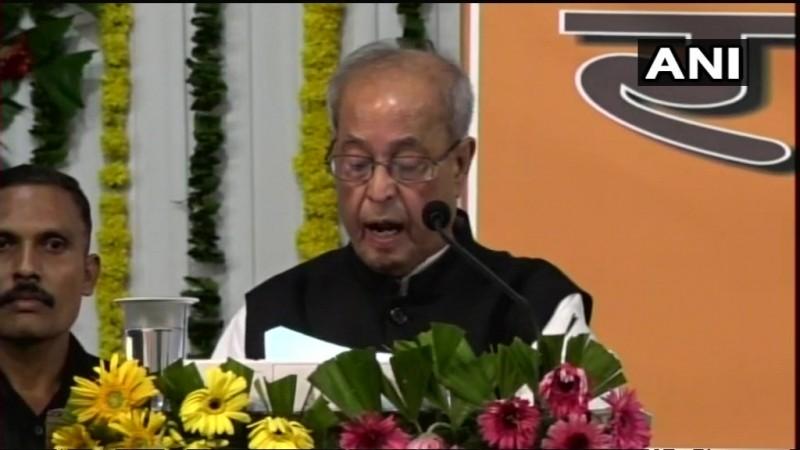 A few minutes after veteran Congress leader Pranab Mukherjee delivered a speech at a valedictory function of the RSS Sangh Shiksha Varg in Maharashtra's Nagpur on Thursday (June 7), morphed images of him giving an RSS-style salute began trending on social media.
The picture, which is a hoax, has naturally not gone down well with Congress leaders like Pranab's daughter, Sharmistha Mukherjee, who took to Twitter to call it a dirty trick by the BJP.
In the edited picture, the former president is seen wearing a black cap, just like the ones worn by Mohan Bhagwat, the supremo of the RSS and the other officials of the right wing party. Pranab can also be seen, with his hand raised to his chest and palm facing the ground—which is a salute given by RSS cadres.
Although the former president was wearing the same clothes seen in the morphed photo, he was not wearing a cap and did not given a RSS-style salute.
After the edited picture started doing rounds on the internet, his daughter Sharmistha, in a Twitter post, revealed that she had cautioned her father that the RSS will be resorting to tricks.
"See, this is exactly what I was fearing and warned my father about. Not even few hours have passed, but BJP or RSS dirty tricks department is at work in full swing," Congress leader Sharmistha said on Twitter.
In fact, she had also cautioned him that the BJP or the RSS might misuse his speech and pictures clicked at the event. According to Sharmistha, by accepting the invite to deliver a speech at the valedictory function, Mukherjee was giving the Amit Shah-led party and the RSS, a chance to spread rumours, reported India Today.
In an earlier tweet from the day, Pranab's daughter had echoed the same thoughts.
Hope @CitiznMukherjee now realises from todays' incident, how BJP dirty tricks dept operates. Even RSS wouldn't believe that u r going 2 endorse its views in ur speech. But the speech will be forgotten, visuals will remain & those will be circulated with fake statements. 1/2

— Sharmistha Mukherjee (@Sharmistha_GK) June 6, 2018