Veteran Congress leader Pranab Mukherjee on Thursday, June 7, attended the valedictory function of the RSS Sangh Shiksha Varg in Nagpur, Maharashtra. Despite criticism and a political slugfest that has been making headlines since he accepted the invitation to attend the event, the former president reached the city on Wednesday, June 6.
Here's what happened: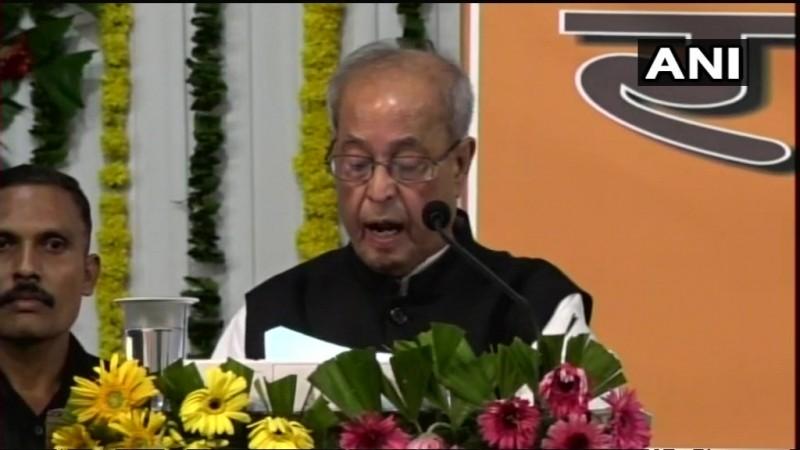 Dr Pranab Mukherjee ends his speech at the RSS event.
While speaking on the topic of nationalism, the former president said: "As Gandhi Ji explained Indian nationalism was not exclusive nor aggressive nor destructive. It was this very nationalism that Pandit Nehru so vividly expressed in the book 'Discovery of India.' He wrote, "I am convinced that nationalism can only come out of the ideological fusion of Hindu, Muslims, Sikhs and other groups in India."
Dr Pranab Mukherjee has said that the concept of modern India was articulated from various leaders across India and that it was not bound by any race or religion.
"We celebrate our diversity. Any attempt to define our nation through religion, dogma or intolerance will only lead to dilution of our identity," says Pranab Mukherjee.
The chief guest hailed ancient Indian wisdom during his speech.
Pranab Mukherjee believes that "our national identity has emerged after a long drawn process of confluence and assimilation and that the multiple cultures and faiths make us special and tolerant."
"I am here amongst you to share my understanding with you of the concepts of nation, nationalism and patriotism in the context of India," Pranab Mukherjee said.
Pranab Mukherjee addresses the RSS cadres.
Despite differences in opinion, language or religion, RSS only works for the welfare of the society, says Bhagwat.
During the speech, the RSS chief said that the organization believes in the concept of unity in diversity and that the Sangh only wants to unite society.
Bhagwat has said that difference in opinion should not divide us.
While addressing the controversy surrounding Pranab Mukherjee's invite to the RSS headquarters, Bhagwat said: "The Sangh remains the Sangh and Dr Pranab Mukherjee remains Dr Pranab Mukherjee. We do not discriminate between Indian citizens," reports Firstpost.
Mohan Bhagwat spoke about the tradition of inviting people from all walks of life. He also heaped praises on the former President and said that everyone has learnt a lot from him.
RSS chief Mohan Bhagwat welcomes chief guest Dr Pranab Mukherjee.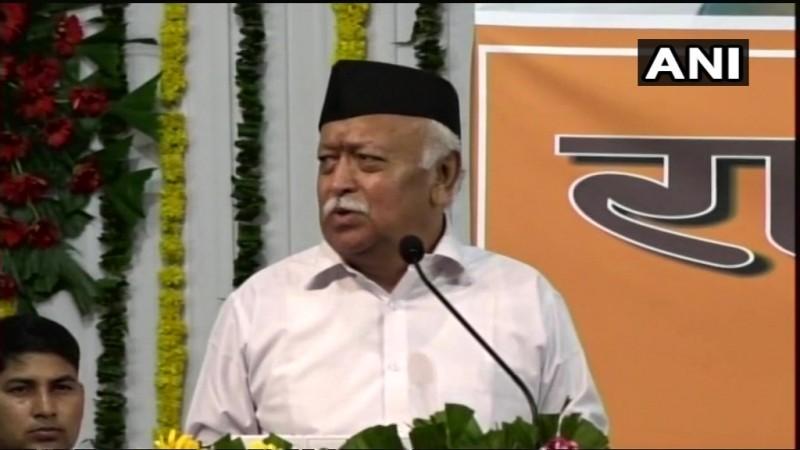 An RSS official is introducing the guests present at the event.
The official Twitter handle of RSS tweeted that "the exchange of views is a part of Indian tradition." The organization, however, still agrees on Pranab Mukherjee presence at the RSS event.
RSS also tweeted a picture of Pranab Mukherjee paying his respects to Madhav Sadashiv Golwalkar, the second Sarsanghchalak of RSS.
Pranab Mukherjee will address the RSS cadres at 7.05 pm. Later, Bhagwat will deliver his speech at 7.30 pm.
The event began with flag hoisting followed by the traditional march-past.
Pranab Mukherjee and Mohan Bhagwat share the stage as cadres unfurl the RSS flag.

Pranab Mukherjee shares the stage with RSS chief Mohan Bhagwat.
The former president will address the RSS cadre shortly.
Bhagwat and Pranab offered their homage at the samadhi of RSS founder Hedgewar.
Congress took a dig at RSS and tweeted: "It is imperative for all Indians to know what the RSS has historically stood for and to understand what it thinks today. People of India should never forget how antithetical their ideologies are to the idea of India."

Just minutes before Pranab Mukherjee's speech, the official Twitter handle of Congress uploaded a video titled "RSS for dummies", which could suggest that the party may disapprove of the visit.
Congress tweeted: "Today is a very fitting day to bring you all a primer on what the RSS really stands for."
After seeing Pranab Mukherjee at the RSS camp, Congress leader and MP Anand Sharma tweeted: "The images of Pranab Da, veteran leader and ideologue at RSS Headquarters have anguished millions of Congress workers and all those who believed in pluralism, diversity and the foundational values of the Indian Republic."
Pranab Mukherjee's visit to the birthplace of KB Hegdewar was indeed impromptu and was not a part of his scheduled itinerary.
The former president's message in the visitors' book reads: "Today I came here to pay my respect and homage to a great son of Mother India KB Hegdewar."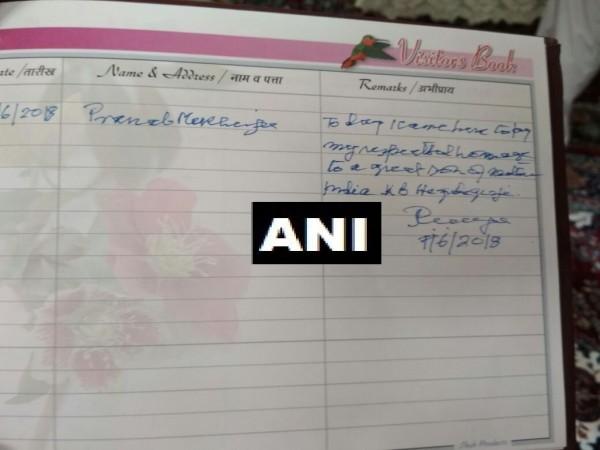 Pranab Mukherjee takes a guided tour of the RSS campus.
The former president interacts with RSS chief Mohan Bhagwat at RSS founder KB Hedgewar's birthplace in Nagpur.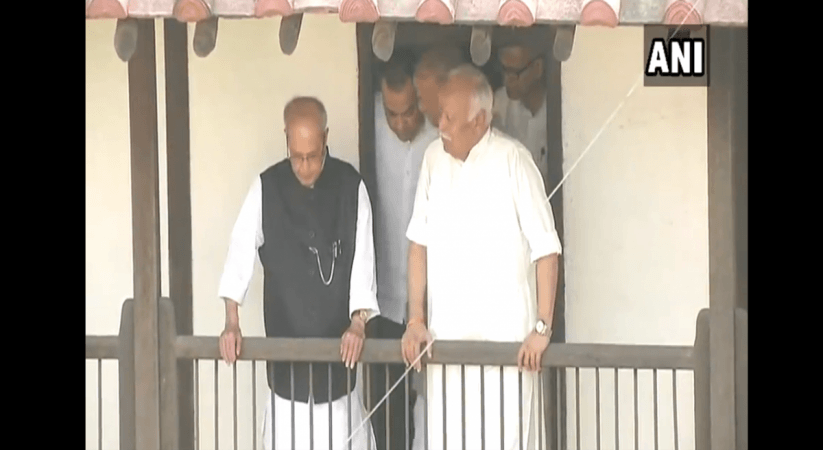 Pranab Mukherjee arrives at RSS founder's house.
The former president will reach RSS headquarters at around 5.30 pm.
The RSS said that there is a lack of original thinkers in Congress, reported News18.
RSS chief Mohan Bhagwat will introduce Pranab Mukherjee at the event.
Pranab will speak at 7.05 pm for about 25 minutes
The former president has also received the support of senior Congress leader Sushilkumar Shinde, who said that Pranab Mukherjee was "not wrong" in accepting RSS' invitation and was a secular person.
"Pranab Mukherjee is a secular person. He will always put forth a secular view which he will do there (at the RSS event) as well. He is a very good thinker, and his going there and speaking on that platform is very important," the FE quoted Shinde as saying.
After Sharmistha Mukherjee cautioned her father about attending the event, Lok Sabha MP and RSS supporter Rakesh Sinha said that she wasn't taking things in the right spirit and that the RSS had invited the former minister just for a dialogue.
"Pranab Mukherjee going to the RSS is giving a message. And in a democracy dialogue is the essence. And dictating someone on where to speak, how to speak and what to speak is a typical characteristic of fascists which is being depicted by the Congress leadership," the Quint quoted him as saying.
The Congress has now reportedly said that one must not speculate about Pranab's presence at the RSS event and should wait for his speech before making assumptions.
Speaking about Pranab Mukherjee's visit, the RSS has said that it wasn't really surprised that the Congress leader had accepted its invitation. It also said that the Sangh had often invited people from all walks of life to attend their events and Pranab was also one of them.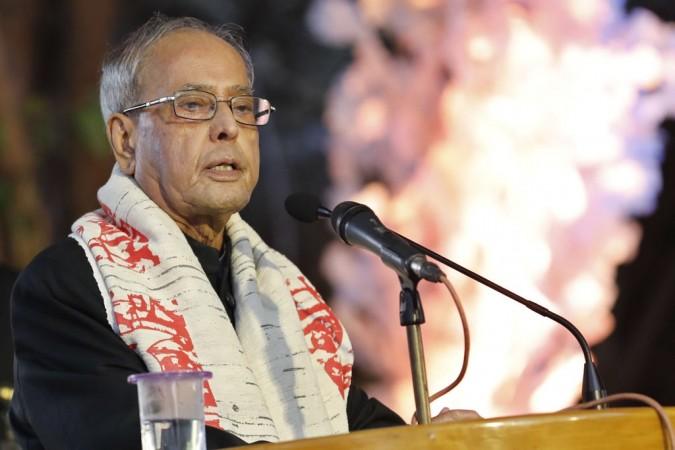 It is also being said that the former president will visit the residence of RSS founder KB Hedgewar.
On June 7, Pranab Mukherjee is expected to meet RSS General Secretary Bhaiyyaji Joshi and a few other RSS members.
While Bhagwat will deliver the final address, Mukherjee is expected to reach the venue at around 6.25 pm and address the RSS cadre for about 20 minutes
Sources also told the Quint that Bhagwat has invited the former president for lunch on Thursday, June 7.
Massive preparations for the event in Nagpur are underway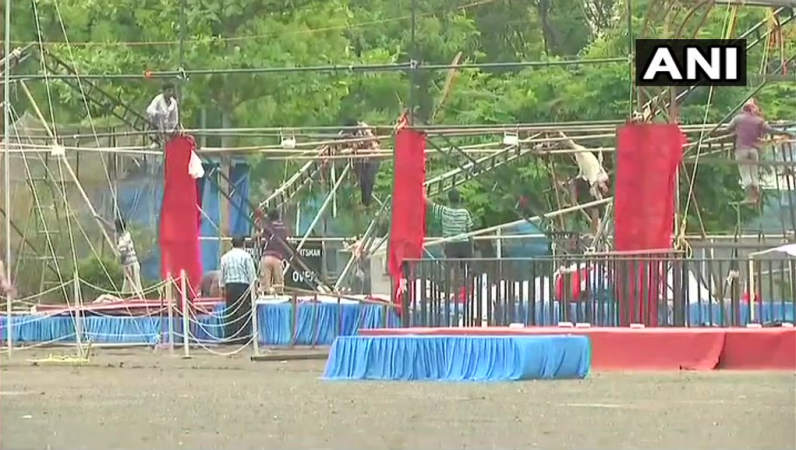 Pranab Mukherjee is said to have met RSS chief Mohan Bhagwat for dinner on June 6.
The BJP has said that Pranab should not be criticised and by accepting RSS' invitation just means that he is ready to accept multiple ideologies.
"We should meet each other, talk to each other, respect views. The notion of political untouchability is outdated. "Those who practice this say others are communal but they are themselves communal," Financial Express quoted Union Minister Nitin Gadkari as saying.
While the Congress leader has faced criticism for his decision from several quarters, his daughter Sharmistha Mukherjee too doesn't approve of the decision. She believes that Pranab's decision would give an undue advantage to the Sangh and the BJP to target him.
Sharmistha added that the BJP and Sangh were likely to plant false stories about the former president and no matter what he says at the event, his "speech will be forgotten" but the "visuals will remain."
She also took to Twitter to speak about her father's decision and said: "Hope @CitiznMukherjee now realises from today's' incident, how BJP dirty tricks dept operates. Even RSS wouldn't believe that u r going 2 endorse its views in ur speech. But the speech will be forgotten, visuals will remain & those will be circulated with fake statements."
Sharmistha, who is also a Congress leader, also explained that her father's decision would help the BJP/RSS to make up stories about him and this would just be the beginning. Her outburst came after rumours did the rounds that Pranab could be joining the RSS and how Sharmistha too was contemplating a move to the BJP.
"In the mountains enjoying a beautiful sunset, and suddenly this news that I'm supposedly joining BJP hits like a torpedo! Can't there be some peace and sanity in this world? I joined politics because I believe in Congress. Would rather leave politics than leave Congress," she tweeted, adding that she'd rather leave politics than quitting the Congress party.
Ahead of the event, several Congress leaders had discouraged the former president from attending the event and many had even warned that there could be "serious consequences" of his decision. Some even said that Pranab should stay away from the event as it could create an "undesirable difference" in the country.
After Pranab remained adamant on attending the event, several Congress leaders are said to have got in touch with him. While senior Congress leader P Chidambaram said that he could go and attend the event the tell the RSS all about the things that were wrong with the ideology, another Congress leader Ramesh Chennithala said that the decision was shocking.
Meanwhile, BJP president Amit Shah lauded Pranab's decision and said that before him many leaders have attended RSS events and named Mahatma Gandhi, former president Zakir Husain, Field Marshal KM Cariappa and activist Jayaprakash Narayan.