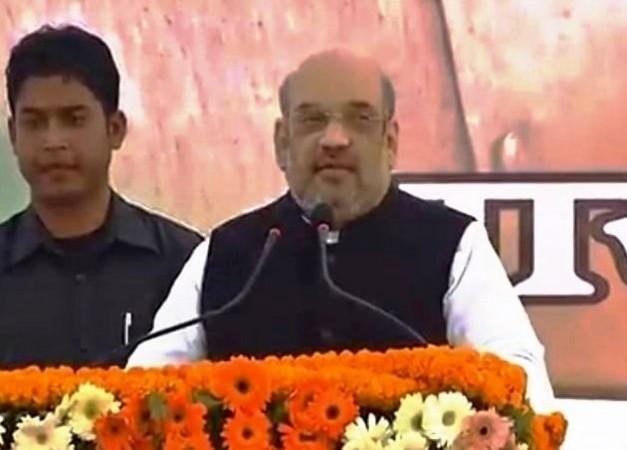 Hours after BS Yeddyurappa took oath as the new Chief Minister of Karnataka, BJP president Amit Shah took a dig at Congress and JDS and said they disrespected the people's mandate.
The BJP emerged as the single largest party with 104 seats but it fell short of eight seats to form the government. In a last-minute effort, Congress extended unconditional support to JDS to form the next government in the state. The people of Karnataka gave a fractured mandate.
The Governor invited BJP on May 16 to form the next government in the state and prove majority in the House. BS Yeddyurappa took oath as the new Chief Minister of the state. Both JDS and Congress cried foul and termed the development 'mockery of democracy'.
Amit Shah took to Twitter on May 17 and wrote, "President of the Congress obviously doesn't remember the glorious history of his party. The legacy of Mr. Rahul Gandhi's Party is the horrific Emergency, blatant misuse of Article 356, subverting the courts, media and civil society."
He claimed that his party has got the people's mandate.
"Who has the people's mandate in Karnataka? The BJP, which has won 104 seats. Or Congress which dropped to 78 seats, whose own CM and Ministers lost by big margins. JD(S) who won only 37 seats and lost their deposits on several others. People are wise to realise."
The BJP national president further condemned Congress and JDS for murdering democracy for the gains as he tweeted, "The 'Murder of Democracy' happens the minute a desperate Congress made an 'opportunist' offer to the JD(S), not for Karnataka's welfare but for their petty political gains. Shameful!"
He earlier thanked the people of Karnataka and BJP workers for the victory. The BJP president tweeted on May 15, "I thank people of Karnataka for voting BJP as the single largest party. This mandate clearly reflects that Karnataka has rejected Congress's corruption, dynastic politics and divisive casteism."
Amit Shah further tweeted, "I congratulate each & every Karyakarta of @BJP4Karnataka unit and Shri B S Yeddyurappa ji for their relentless efforts. Like rest of the nation, the great land of Karnataka has shown their unwavering trust in PM @narendramodi's clean, transparent and pro-development governance."