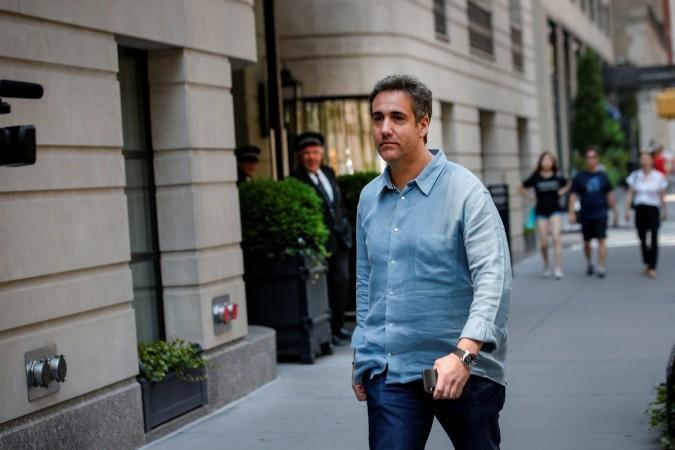 Legal woes for Michael Cohen, the former lawyer and trusted aide of US President Donald Trump, seem to be never-ending. After making headlines for Trump's presidential campaign, Cohen is now reportedly being investigated for a suspected bank fraud of about $20 million.
Federal authorities in Manhattan are looking into the $20 million loans that were extended to the taxi companies run by Cohen and his family, reported the New York Times, and believe that the attorney could have fudged the value of his assets to secure the loan. Cohen's companies are said to have received loans from Sterling National Bank and the Melrose Credit Union.
The authorities also believe that Cohen may not have disclosed the money the family made from the taxi companies to the Internal Revenue Service.
The prosecutors are now reportedly preparing to press criminal charges in the next two weeks and this is likely to come as a major blow to Trump, as it could lead to a lot of other revelations considering how close Cohen once was to the president. The attorney was famously known as Trump's pit bull and had even said that he "would take a bullet" for the president.
Along with the bank fraud suspicions, Cohen is also being investigated for finance violations during Trump's campaign and may face charges for these allegations as well. Before the 2016 elections, Cohen is said to have paid off women who said that they had affairs with Trump.
To substantiate claims that Cohen had paid off these women, his attorney Lanny Davis recently released audio tapes in which Cohen and Trump can reportedly be heard talking about how they could pay former Playboy model Karen McDougal, who said that she had a sexual relationship with Trump several years ago.
The conversation was reportedly recorded in September 2016. According to a transcript released by the Washington Post, Trump asks: "So, what do you we got to pay for this, 150?" to which his personal lawyers responds: "Funding ... Yes. Um, and it's all the stuff."
Trump is then reportedly heard asking Cohen to pay McDougal in cash, to which the lawyer replies: "No, I got it," before Trump says, "Check."
Cohen is also said to have given adult star Stormy Daniels an agreement and a side letter, asking her not to speak of the affair she had with Trump and was also accused of paying her about $130,000 to silence her.
The fact that Cohen was being investigated first came to light in April, when the FBI raided his home, office and his hotel room something that Trump called a "disgraceful situation" and an "attack on our country in a true sense."