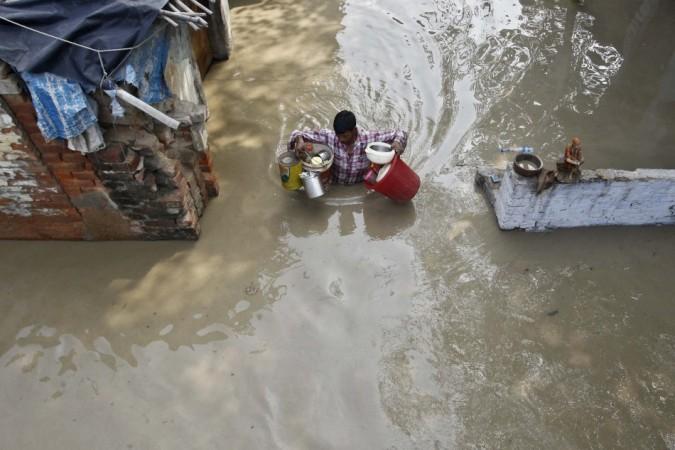 The national capital will see light to moderate downpour over the next seven days, said the MeT officials, with temperatures likely to fall further. The rainfall on Monday was recorded from light to moderate shower in most parts of Delhi, leaving the city roads drowned in water and traffic congestion.
"Mainly northwest Delhi was affected on Monday. We can expect some rain over the next seven days with humidity staying on the higher side," said Kuldeep Srivastava, a scientist at the regional MeT office, adding that the intensity of rain could be higher on Thursday as heavy showers are expected.
The maximum temperatures on Monday were recorded at 34.1 degrees Celsius, and might further drop as the MeT officials are forecasting a maximum temperature of 33 degrees Celsius and a minimum temperature of 26 degrees Celsius.
With such predictions the Delhi officials want rain to go away as they have not been able to manage the city drainage system. Their failure could be seen in the moderate rain that the city received on Monday (July 16), which led to inundated roads, submerged buses and helpless passengers stuck midway.
A Friday-like situation was witnessed under the Minto bridge when a bus got trapped in the waterlogging on making an effort to cross Minto Road from Connaught Place. Even after two hours of an attempt to stop the heavy inflow of water into the area, they were unable to succeed in their task.
The Minto Bridge has become a symbol of the laziness that the civic body has shown in the city since every year buses get stuck under it. The spokesperson of the north corporation said that no action was taken even after sending several letters to the public works department that maintained the road.
While the officials of PWD refused to comment on why the problem recurred at such a large scale every year even after repeated attempts, Tilak Raj, leader of the house in the corporation, criticised the government of Delhi for its apathy.