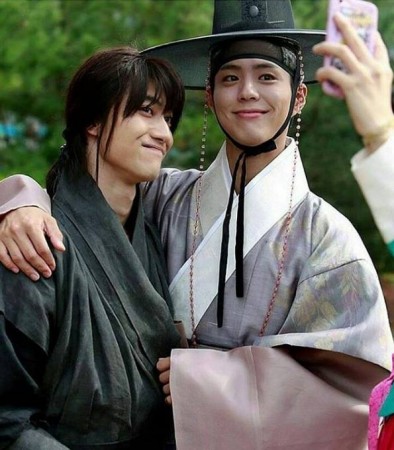 Park Bo Gum seems to be a favourite of his Moonlight Drawn by Clouds co-stars, and a good number of them have gone on record to say he was warm and affectionate while filming the historical romance drama.
But Park Bo Gum is human after all, and there are times when he too gets angry.
Kwak Dong Yeon, who played Kim Byung Yeon in Moonlight Drawn by Clouds, revealed in a recent interview that he has witnessed Park Bo Gum getting pissed. "Now that we're close, we often have deep conversations," he said, according to Soompi. "He is kind, but when you think about it he's also human. He gets angry too. When he's extremely upset, he expresses his anger by saying, 'I'm super pissed' (uses the word jjamppong, the name of a spicy seafood noodle soup, in place of the word 'pissed')."
Kwak Dong Yeon also revealed that it was initially quite difficult to get close to his Moonlight Drawn by Clouds co-star. Recalling his first meeting with Park Bo Gum, Kwak Dong Yeon said: "I was getting make up done in the car when the door opened and Park Bo Gum came in. After we said 'Hello,' an hour of silence followed."
He added: "Park Bo Gum has a very reserved personality. Becoming close with him was a struggle. Just trying to talk in informal speech took two hours."
Moonlight Drawn by Clouds aired its finale on October 18. The show had garnered good rating throughout, and rumours are rife that KBS2 is thinking of producing a sequel to the drama. However, there has been no official announcement regarding this.