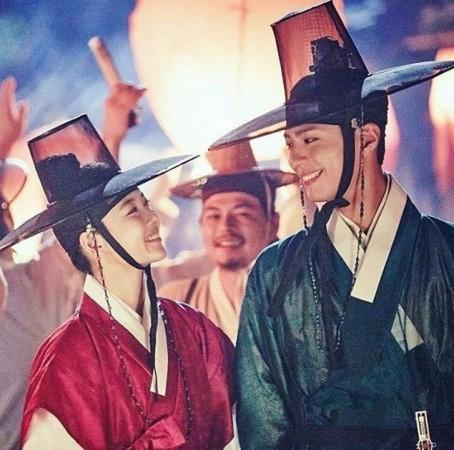 Moonlight Drawn by Clouds ended its successful run on October 18, but its lead stars Park Bo Gum and Kim Yoo Jung continue to hog headlines.
For a while now, rumours have been rife that Park Bo Gum and Kim Yoo Jung are romantically involved, thanks to their amazing chemistry while playing Prince Lee Yeong and his love interest Ra On. Interestingly, Kim Yoo Jung's family, too, harboured similar doubts.
"Even my mom and my sister were worried and would ask, 'Are you sure you don't actually like Park Bo Gum?'" Kim Yoo Jung said in an interview, reported Soompi.
However, she clarified that while she indeed likes Park Bo Gum, it's his onscreen character Lee Yeong that she loves. "But to be precise, I think I loved crown prince Lee Young. The character Lee Young is at once smart and wise. How can you not love someone like that?"
Kim Yoo Jung has only praise for Park Bo Gum, whom she said was a warm and affectionate person. "Even off camera he is very thoughtful of others and makes them comfortable. He was a very good oppa." Sadly, she does not have any romantic feelings towards him. "Everyone is wondering how it's possible to not like him [romantically], but it's not like everyone in the world must like Bo Gum oppa. And I don't."
Moonlight Drawn by Clouds cast and crew took a trip to the Philippines to celebrate the success of the historical romance drama. Rumours are rife that a sequel to the show is in the works, but there has not been any official confirmation.