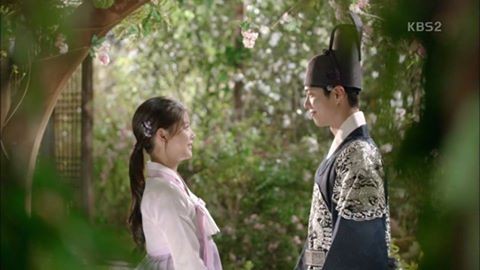 Moonlight Drawn by Clouds stars Park Bo Gum and Kim Yoo Jung, who played lovers Lee Yeong and Ra On in the historical romance drama, were seen together at an airport in the Philippines. The duo was wearing glasses and was dressed casually -- Park Bo Gum in a hoodie and Kim Yoo Jung in an oversized baseball jersey.
Because of their sizzling onscreen chemistry, fans have often wondered if anything was brewing between Park Bo Gum and Kim Yoo Jung, with many taking to social media to say they hope Park Bo Gum and Kim Yoo Jung become romantically involved in real life as well. But it looks like they are nothing more than friends.
Their drama wrapped up last week and it maintained a good viewership rating of around 20 percent until the end and their trip to the Philippines was to celebrate the success of the show, which has become a global phenomenon.
In an interview with Elle, Kim Yoo Jung also revealed that Park Bo Gum was like her sibling. Although they were awkward with each other in the beginning, filming for Moonlight Drawn by Clouds helped them come closer and become comfortable with each other.
"Park Bo Gum oppa is really good to me. We're like siblings. Before we started production, we wanted to get close to each other so we did script readings together and went out to eat, but it felt awkward. When filming started, becoming closer happened naturally as we went through the difficulties together. Now not only Bo Gum oppa, but Jinyoung oppa and Kwak Dong Yeon oppa and all the seniors feel like family," Kim Yoo Jung told Elle magazine in September.