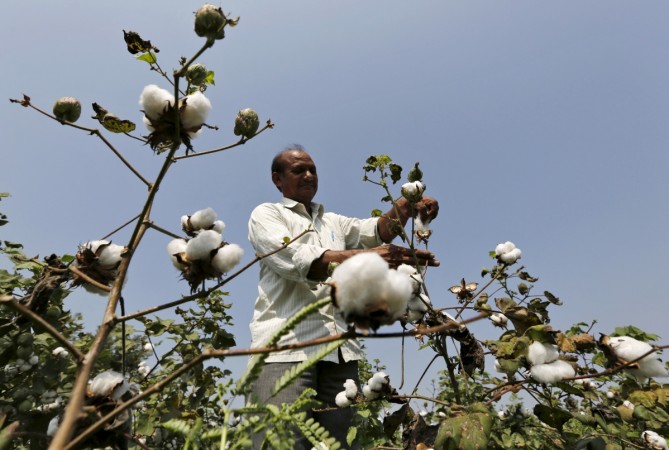 Cottonseed company Monsanto India is welcome to take a call on its operations in the country if it does not want to cut the rates of its GM-seeds as specified by the government, Minister of State for Agriculture Sanjay Kumar Balyan said.
He said that his government will not allow a "foreign company to dictate" cottonseed prices, throttling indigenous crop research, Reuters reported.
The U.S.-headquartered Monsanto's India arm is the only publicly listed company outside the U.S. The cottonseed company, in partnership with state-owned Mahyco, has a market share of 90 percent of all cotton seeds supplied in India. Monsanto India has been in the country for four decades now.
It is reported that the arrival of GM-seeds in India in 2002 has helped the country become the highest producer of cotton, benefiting more than 7 million cotton farmers. Yet its pricing of seeds has been a prickly issue with farmers and their organisations, and the company has been accused of market distorting monopoly and overpricing. The charges gained traction especially as the three straight monsoonal harvests suffered due to insufficient rains.
The flash point development came in when the current government accepted an expert panel's proposal to cut royalty fees on GM seeds by 70 percent, while also reducing the price of seeds in general. The committee was established to mollify farmers and its proposal had turned Monsanto from the biggest beneficiary to a loser overnight in India's cotton landscape.
Read: Monsanto India upset at royalty-cut proposal
Monsanto has taken the government to court on the issue, but the government's stance on the same does not seem to have changed.
"It's now upon Monsanto to decide whether they want to accept this rate or not," Balyan was quoted as saying by the news agency. "If they don't find it feasible, then they are free to take a call. The greed (of charging) a premium has to end. We're not scared if Monsanto leaves the country, because our team of scientists is working to develop (an) indigenous variety of (GM) seeds."
India's nationalist government is also reportedly expected to develop its own GM cotton varieties in early 2017 to end Monsanto's monopoly. Experts however, have warned that "new technologies are critical to lift India's poor farm productivity."
Ashok Gulati, an agricultural economist who formerly advised the government, told Reuters that "even if India replaces Monsanto's current Bollgard II technology, their efficacy will drop sharply in 4-5 years as pests they are meant to kill become resistant."
"What will we do then? Invite Monsanto again?" Reuters quoted him as saying. Gulati added that developing new technology is an expensive proposition and is extensively research driven.
Monsanto India for its part said in a statement this month that it would have to "re-evaluate" its India business, because it was difficult to bring in new technologies in an "environment where such arbitrary and innovation-stifling government interventions make it impossible to recoup research and development investments ..."
Monsanto also said that it was important for the country to ensure sanctity of contracts and recognise intellectual property rights.
Though Monsanto India has avoided commenting any further, analysts are of the opinion that the company may not consider a withdrawal, given India huge market opportunity. Its strategic importance is now even more relevant, given that China has opted to buy its toughest competitor Syngenta for a $43 billion offer, said Reuters.
Another reason the company might want to avoid a slugfest could be its intention to test the Indian waters for its new GM corn variety, added the agency. "India is too huge a seed market for anyone to leave (of) one's own choice," Reuters quoted Ajay Vir Jakhar, chairman of the Farmers' Forum India as saying.