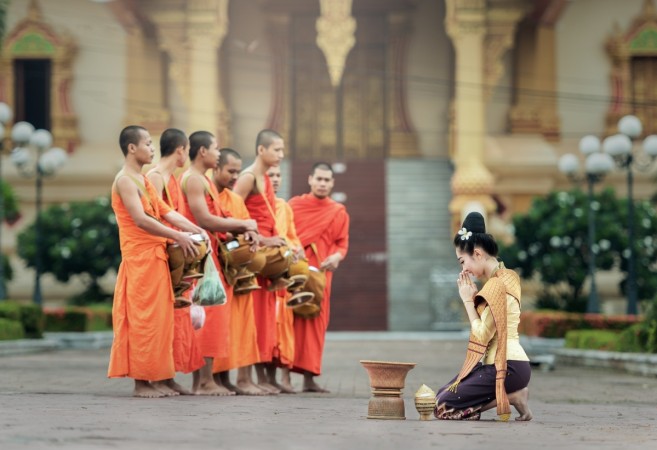 The obsession with women's underwear has existed since the times of the legendary Roy Reymond – a simple man who just wanted to buy lingerie for his dear wife but was met with disappointment in the department store's available lingerie fashion and their attitude about a man shopping for his wife.
While Roy, the founder of Victoria's Secret, sought the opportunity and created a lingerie store where men would feel comfortable shopping too, recently a certain Buddhist monk tried to seek an opportunity too and stole a woman's wet panties. Unfortunately, he was caught on a CCTV camera.
Also read: Buddhist monk 'smiles' two months after his death
As Metro.uk reported, he has been kicked out of his temple ever since as his shaven-headed, orange-robed self-appeared on the footage in the act of stealing six pairs of underwear in Suphaburi, Thailand, last week.
The monk has been identified as Theeraphap Worradilok, 49, as he was seen pinching the damp underwear from a washing line right outside a house, along an alleyway. The owner of the house, Kittisak Khajornnetikhun, 40, was the one who noticed his wife and daughter's knickers missing.
Upon deciding to check the CCTV footage, he spotted the deity snooping around. He said, "It's quite funny and we're not shaken up by it so we don't want to make a fuss. But it's the right thing that he is caught for this."
After the local abbot was informed of the incident, he immediately took action against the monk – defrocking the monk and sending him packing. The monk's own version of the story – as he had shared with the abbot – claimed that recently stopping his prescription medicine had made him behave strangely.
Kittisak, a gold shop owner, said, "The underwear isn't worth a lot of money. My wife can buy more, though she did like one of the pairs that were stolen. The most important thing is that other women should be warned about the monk. That's why we have reported it."
Also read: Hindu monk's manhood can pull a van
Police Colonel Phuwadit Khongpet said, "It's a fact that the man in the video was a monk. He is originally from Nakhon Nayok province. We have interviewed the abbot at the temple who said the monk might have been confused because he had stopped taking medication. But he has tarnished the reputation of the temple."
He also mentioned, "Officers will continue the investigation to find the monk and charge him with theft during the day-time, according to the law."