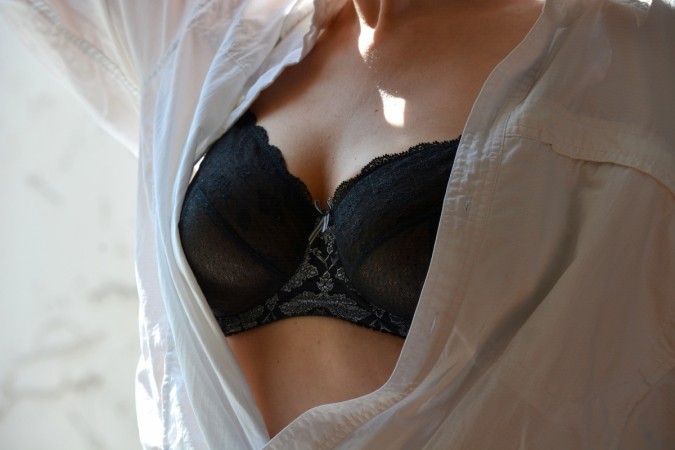 The social stigma about women's curves not being just the right amount eats up almost every female's self-confidence. And while going under knife seems like the most convenient option for those really not content with their body, it's risky too.
Body positivity and self-love should be the goal, instead of fitting into societal norms about how one's assets should look like. But for everybody looking to boost their chest size – this new vibrating, tech-bra comes as a bonus.
Also read: Bella Hadid flashes undergarments in mesh
Known as Enhancebra, or E-bra, it doesn't just make the breasts larger – it also makes them perkier and even brings them closer – all in the span of just seven days! That too with a guarantee from the inventor, claiming that the results are permanent without surgery.
Inventor Milan Milić from Serbia spoke to Daily Mail Online, explaining the theory as "a natural process that increases the blood circulation that is feeding the breast. When we researched the human body, we had a theory about how we could manipulate the human body to manipulate the tissue and muscles."
After 14 successful trials on women all around the world and with the item set to be mass produced for the first time, as reported by The Sun, Milan shared, "We believe we have found a solution to do this and in this case we use it to enlarge and enhance a woman's breasts."
Also read: Men fake orgasms too!
Priced at $199 (£150, this bra will be available to women in the US and the UK from Enhancebra.com. It promises a bigger cleavage without undergoing painful breast augmentation procedures.
Milan, who is a former engineering student, shared that it all started with him looking for alternatives to breast surgery after his girlfriend expressed her desire to get bigger breasts. Spending months researching the subject as a hobby, he finally created a prototype of the bra.
Finally, in 2015, he brought the device – or the E-bra – to the US, whereupon it was tried on two women outside Europe for the first time.
Milan's girlfriend Jelena Sabic, 26, the first one to have tested the prototype had her breasts grow by a whole size in just seven days, which had practically blown the couple away. "It all started about two years ago. Jelena wanted bigger breasts and wanted plastic surgery but she was afraid of the operation and the scars afterwards," Milan shared.
Also read: Women's periods are the worst in January
"She didn't want to insert a foreign body into her body plus it was too expensive for us to afford that operation. So we started to research how we could do it differently. After our research, we made the first prototype of the new bra.
"We tried the first test of the prototype on Jelena. We thought the first result wouldn't be visible for about two or three months but after just two days the results were very good – we understood we were on to something big," he mentioned.
As for how the bra functions, he said: "You only need to wear the bra for five minutes a day, three times a day and after just seven days you will have increased her bra size by one cup size."