Rashtriya Swayamsevak Sangh (RSS) chief Mohan Bhagwat said that parts of MS Golwalkar's book Book of Thoughts are not 'pleasurable' anymore. He also said that parts of the book were edited to fit the current thought-process and scenario.
Golwalkar, also known as Guruji, was the longest serving member of RSS.
"Rahi baat 'Bunch of Thoughts' ki, batein jo boli jaati hain woh paristithi vishesh, prasang vishesh ke sandarbh mein boli jaati hain. Woh shashwat nahin rehti hai. Ek baat toh yeh hai ki, Guruji ke jo shashwat vichar hain unka ek sankalan prasiddh hua hai 'Sri Guruji: Vision and Mission' usme tatkalik sandarbh se aane waali saari batein humne hatakar usme jo sada kaal ke liye upyukt vichar hain woh rakhe hain. Usko aap padhiye. Usme aapko aisi baatein nahin milengi," Bhagwat told The Indian Express.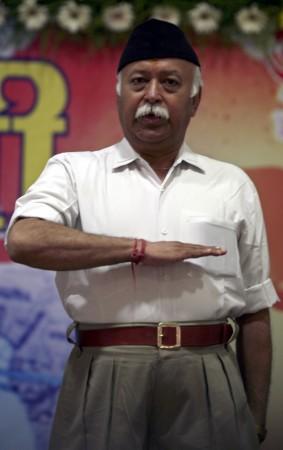 He made these remarks when asked a question during the three-day lecture series on 'Bharat of future: An RSS perspective' in New Delhi.
Surprisingly, Mohan Bhagwat did not mention Golwalkar's name even once during his speeches. He mentioned Golwalkar only once other than this instance while making a passing mention of a minor incident in Golwalkar's life and his stance on inter-caste marriage.
However, Bhagwat invoked other names during his speeches, including that of Mahatma Gandhi, Nehru, Ambedkar, Motilal Nehru, and Rabindranath Tagore. He mentioned a total of 32 names at least 102 times, according to The Indian Express. This is very rare, since RSS members are known to include Golwalkar's name and Hegdewar's name in their speeches.
Bhagwat also stunned the audience by saying that RSS was not against the Muslim community even though they wanted a Hindu Rashtra. He went on to say that if there is no place for Muslims in the country, it is not Hindutva anymore and it stops being a Hindu Rashtra.