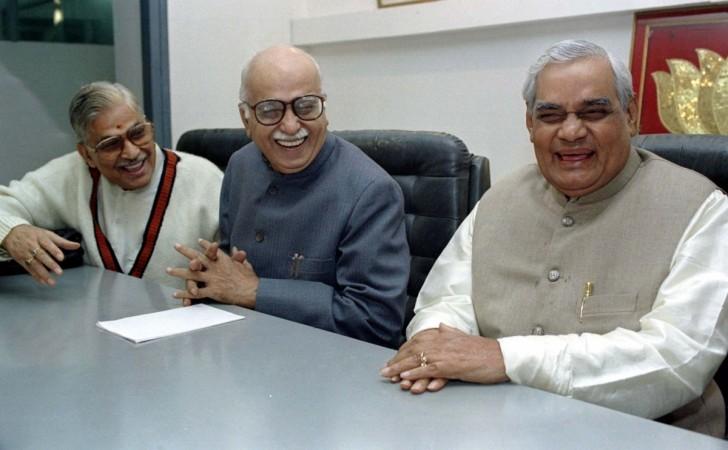 Prime Minister Narendra Modi is said to have finally taken complete hold over the party by removing BJP founding trio Atal Bihari Vajpayee, Lal Krishna Advani and Murli Manohar Joshi from top decision-making body and fitting them into a toothless mentors' panel.
The decision to eliminate the three veterans from the Parliamentary Board reflects how the party has completely gone into the clutch of Modi and his close aide and BJP president Amit Shah. Also, formation of the new body, 'Margdarshak Mandal', has raised doubts among many including the opposition parties.
This toothless body is being seen as a place where the BJP's founding trio is being dumped as mentors by snatching away their roles in party's major decision-making. Also many have reportedly questioned its existence, doubting whether it will ever be established.
Vajpayee was removed from party's decision-making bodies due to his health conditions because of which he has not been able to attend several meetings.
However, Advani and Joshi is said to have actively participated in the party affairs, despite which they have been barred from making critical decisions for the party and instead been shifted to a newly created body—'Margdarshak Mandal'.
Attacking BJP over its decision to remove the trio from the top panel, Congress said this reflects the "process of centralisation of power" in one hand.
"It is a mookdarshak mandal. It is like an old age home from where Advani and Joshi will witness the functioning of BJP like mutes. We were all aware that they are being sidelined," Economic Times quoted Congress leader Rashid Alvi as saying.
This blow to the three veterans came amid speculations that Ananth Kumar would lose his space from parliamentary board, instead he sustained in the panel reportedly because of his closeness with RSS.
BJP had on Tuesday reshuffled party's Parliamentary Board members and added a couple of new ministers by replacing veteran politicians Advani and Joshi. Party President Amit Shah has been considering making changes in the Central Election Committee as well.
Commenting on the changing responsibilities within the party, BJP spokesperson Sudhanshu Trivedi said it is needed for the betterment of a party.
"Changing of responsibilities is a natural process in a democratic organisation like the BJP and for the upliftment of the organisation and for changing situations the party keeps on changing the responsibilities of the workers and senior leaders," Daily News & Analysis quoted Trivedi.
After replacing the veterans with Madhya Pradesh Chief Minister Shivraj Singh Chouhan and BJP general secretary JP Nadda, the Parliamentary Board now consists of leaders including Narendra Modi, Amit Shah, Arun Jaitley, Rajnath Singh, M Venkaiah Naidu, Shahnawaz Hussain, Sushma Swaraj, Nitin Gadkari, Ananth Kumar, Jual Oram, Thawarchand Gehlot and Vijaya Rahatkar.
While the 'Margdarshak Mandal' consists of five members including Vajpayee, Advani, Joshi, Modi and Rajnath Singh, ET reported.