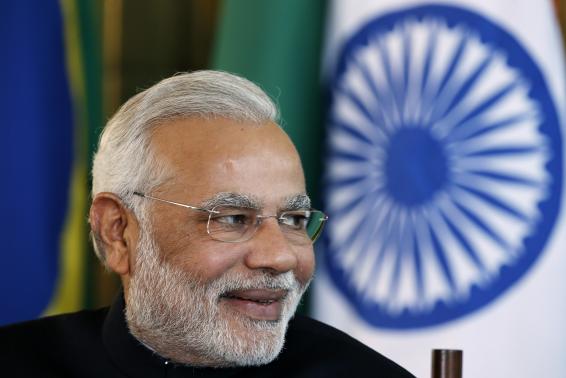 After being elected as the Prime Minister of India, Narendra Modi hosted the first dinner for RSS leaders at his Delhi residence on Thursday, ahead of which the party reportedly decided remove one member from its top decision-making body.
The party had recently included BJP President Amit Shah as the Chairman of the BJP Parliamentary Board, which has other 12 members. In order to bring down the member count to 11, BJP is likely to remove Chemicals and Fertilizers Minister Ananth Kumar.
"With Shah becoming president, the number of members in the panel has gone up to 12. One of the existing members will be dropped," Hindustan Times quoted a senior BJP leader.
Modi hosted a dinner at his Race Course residence, which reportedly was a goodwill gesture towards RSS who helped BJP win Lok Sabha elections. It was also meant to ensure harmony and coordination between the party, Sangh pariwar and government, according to news reports.
Ahead of the dinner, Union Minister Nitin Gadkari held a meeting at his residence. Shah, Home Minister Rajnath Singh, Ram Lal Ji, Sangh leaders Krishna Gopal, Bhaiyyaji Joshi and Dattatreya Hosabale attended the meeting.
Further Discussions
The discussions were held to reshape and remould the national office bearers' team, for which some old members are likely to be replaced by the young ones. The party is reportedly considering limiting the maximum age of the office bearers to 60-62 years.
This will apparently replace Former health minister CP Thakur, former Uttar Pradesh chief minister Kalyan Singh, former Punjab minister Laxmi Kanta Chawla and Lok Sabha MP Bijoya Chakraborty, who all are above 70 years of age.
Additionally, the party has decided that anyone handling a ministry will not be included in the national office bearers' team, due to which Human Resource Minister Smriti Irani and Water Resources Minister Uma Bharti are likely to be replaced.
Shah's appointment as the party president will be announced officially on 9 August at the BJP's national council meeting, where the new team of the office bearers is likely to be announced, according to news reports.