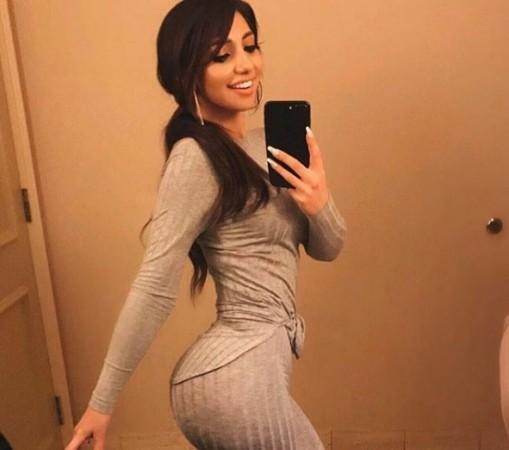 Instagram model Deyana Mounira has claimed that she was sued by a professional photographer named Tony Toutouni for allegedly sexually arousing his dog during a photoshoot. Debunking the charges, the model took to Instagram to explain that she was sexually harassed by Toutouni.
According to several reports, Toutouni, who proclaims himself as "king of Instagram," filed the suit with Pirnia Law Group accusing the Insta model of stimulating his Russian royal terrier Hef during the photoshoot. He further stated that she was playing with Hef's genitals and masturbating him.
The model also insisted that it was Toutouni who was sexually harassing her and constantly encouraging his dog to jump on her.
Taking to Instagram, Mounira shared two videos from the event. In one post, she explained the incident, writing, "During this entire amateur shoot with Tony, I was very uncomfortable bc Tony was harassing me, verbally & sexually. He forcibly grabbed me inappropriately & tried to get me into his room several times as I walked around and he continued to do so even after I repeatedly told him to stop.
"He provoked his dog to hump me & told me to allow it. This video has Tony's voice telling me to allow his dog to take these actions and says, 'let him do it, 'fuck her' & 'I almost had it, go back...just stand there and let him sniff your butt.' "
She also claimed that the photographer groped her while trying to get her into his room.
Speaking of that, she further noted, "In fear of Tony showing these humiliating videos to his friends & the public in general, I posted the video of myself & the dog as a comedy video on my own IG page to try to redeem myself because the video of me is completely mortifying. Tony later posted the same video of me on his IG page, but the difference in the two videos is that he will never post the original videos because he is the one recording me with his voice in the background. Tony has forced my hand by further publicly defaming my reputation on TMZ."
On the other hand, Tony's attorneys at Pirnia Law Group told TMZ, "No matter what took place in the photo shoot between Ms. Mounira and HEF, and no matter who instigated what exactly, the main takeaway is that upon leaving the shoot Ms. Mounira was explicitly told NOT to post any videos of HEF as it reflects poorly on my client who is a public figure."
They also added, "If she was bothered by the actions of HEF or my client, why was she smiling and laughing in the video? Why did she stay at the shoot for hours after it was over?"