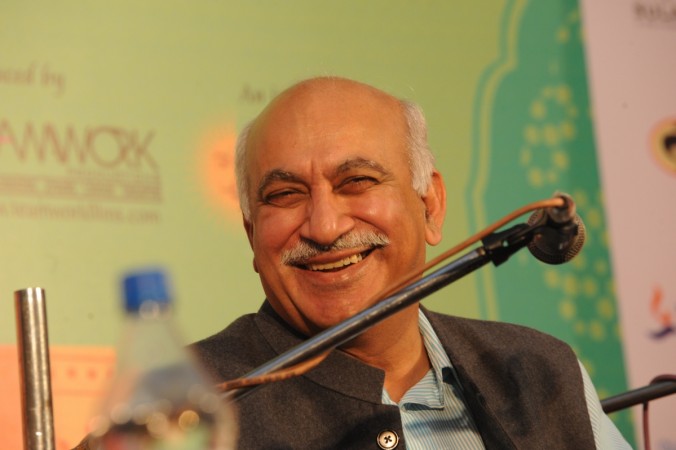 Union minister MJ Akbar on Monday filed a criminal defamation complaint against journalist Priya Ramani who recently levelled charges of sexual misconduct against him as the #MeToo campaign raged in India.
The Minister of State for External Affairs accused Ramani of "wilfully, deliberately, intentionally and maliciously" defaming him and has sought her prosecution under the penal provision on defamation.
Akbar was accused of sexual misconduct last week, which led to opposition parties demanding his resignation. The former journalist has rubbished the accusations, calling them "false and fabricated" as well as "wild and baseless".
All five women journalists who brought up these accusations against Akbar have confirmed that they stand by their statements. Speaking to the Indian Express, two of the accusers even said that although they were disappointed that Akbar brushed off the claims, they were not surprised by the move.
Akbar also questioned the timing of the reports, saying that the accusations have come surprisingly close to the general election. To this, New York-based journalist Majlie de Puy Kamp—who has accused Akbar of forcibly kissing her while she was interning at The Asian Age in 2007—responded that she has no political agenda. She said she "not a citizen [of India], I cannot vote. I do not have a political agenda."
She added that she has actual concrete evidence, "I have a paper trail," she said. "My father wrote an email to Akbar about the incident to which he responded. I have evidence. I am disappointed but not surprised by his statement. I am, however, very comfortable with my story."
Akbar has denied the allegations.
"The allegations of misconduct made against me are false and fabricated, spiced up by innuendo and malice. I could not reply earlier as I was on an official tour abroad," the minister said after he landed back in the country, according to ANI.
"Accusation without evidence has become a viral fever among some sections. Whatever be the case, now that I have returned, my lawyers will look into these wild and baseless allegations in order to decide our future course of legal action," said the minister.
Priya Ramani—another journalist has come forward to say that she too stands by her story. "The truth is the best defence in any defamation case. I'm not worried."
Suparna Sharma, who is now resident editor of The Asian Age, spoke with the Express, saying, "I stand by my testimony of the two incidents," which she has levelled against the minister. "I am disappointed with Akbar's response but I am not surprised."
Freelance journalist Kanika Gahlaut has responded to Akbar by saying that she stands by her story. Shutapa Paul, who tweeted her allegations against Akbar also did not distance herself from her words, adding that she was shocked and dismayed by how he responded.
[With inputs from PTI]