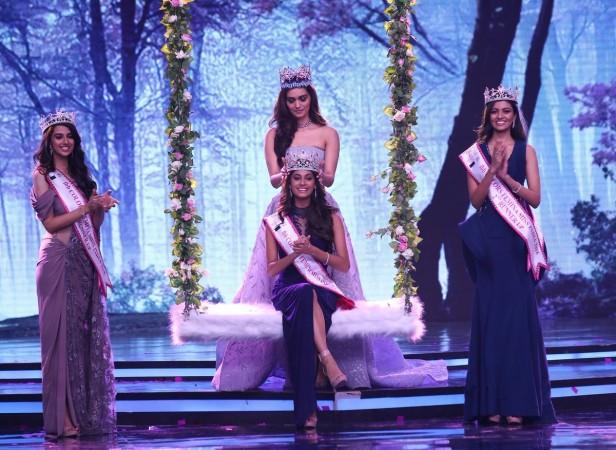 The new Miss India winner has been announced. On Tuesday night, Miss World 2017 Manushi Chhillar crowned Anukreethy Vas, a 19-year-old college student from Tamil Nadu, Femina Miss India 2018 winner.
Miss India 2018 finale was held on Tuesday night at Dome NSCI, Sardar Vallabhbhai Patel Indoor Stadium in Navi Mumbai. The finale night was hosted by filmmaker Karan Johar and actor Ayushmann Khurrana.
The event saw several Bollywood celebrities dancing to the tunes of some of the hit numbers. Veere Di Wedding actress Kareena Kapoor Khan, Race 3 actress Jacqueline Fernandez and Dhak Dhak girl Madhuri Dixit Nene performed on their hit numbers.
After the performances, the top 5 finalists were announced and in no order, the five finalists were Miss Tamil Nadu 2018 Anukreethy Vas, Miss Andhra Pradesh 2018 Shreya Rao, Miss India Jharkhand 2018 Stefy Patel, Miss India Haryana 2018 Meenakshi Chaudhary, and Miss India Delhi 2018 Gayatri Bhardwaj.
The contestants were asked questions in the Q&A round following which the winner was announced. The finalists were asked, "Who is the better teacher? Failure or success?"
The current Miss World Manushi Chhillar crowned Anukreethy as the winner of Miss India 2018. Anukreethy will represent India at the Miss World 2018 beauty pageant competition, which will be held at the end of this year.
Meenakshi Chaudhary from Haryana was crowned the first runner-up, while Shreya Rao Kamavarapu from Andhra Pradesh was crowned the second runner-up. The runners-up will represent India at Miss Grand International 2018 and Miss United Continents 2018, respectively.
The judges of the competition were cricketers Irfan Pathan and KL Rahul, Bollywood actors like Malaika Arora, Bobby Deol and Kunal Kapoor, noted anchor and journalist Faye D'Souza and designer Gaurav Gupta.
Sub contest winners
Miss Beauty With a Purpose: Anukreethy
Miss Multimedia: Shreya Rao
Check out all the photos of Miss India 2018 grand finale here:
And now for the moment of glory!
We have the Femina Miss India World 2018, @anukreethy_vas being crowned by @missworld @ManushiChhillar! @feminamissindia #MissIndiaFinale #FeminaMissIndia2018 pic.twitter.com/EJk1TxO26h

— COLORS (@ColorsTV) June 19, 2018
Our heartiest congrats to Shreya Rao, Meenakshi Chaudhary, and Anukreethy Vas.

A true moment of pride and prestige for these beautiful ladies tonight at the Femina Miss India 2018 grand finale. @feminamissindia #MissIndiaFinale #FeminaMissIndia2018 pic.twitter.com/KjJr15FYUo

— COLORS (@ColorsTV) June 19, 2018
Glimpses from @MadhuriDixit's rocking performance and dances of India round at the grand finale of @fbb_india @ColorsTV Femina Miss India 2018 at @DomeIndia
Co powered by @sephora_india and @DS_SilverPearls #MissIndiaFinale pic.twitter.com/Avb7BUJdSO

— Miss India (@feminamissindia) June 19, 2018
When @MadhuriDixit and #MalaikaArora sizzled on stage of @fbb_india @ColorsTV Femina Miss India 2018 grand finale at @DomeIndia
Co powered by @Sephora_India and @DS_SilverPearls#MissIndiaFinale pic.twitter.com/JMKpfs9pIL

— Miss India (@feminamissindia) June 19, 2018
What a rocking performance by #KareenaKapoorKhan! @fbb_india @ColorsTV Femina Miss India 2018 grand finale at @DomeIndia
Co powered by @Sephora_India and @DS_SilverPearls #MissIndiaFinale pic.twitter.com/RTLrQx5Mot

— Miss India (@feminamissindia) June 19, 2018
Congratulations to the Top 5 contenders of the Femina Miss India 2018 grand finale. Gayatri Bhardwaj, Meenakshi Chaudhary, Stefy Patel, Anukreethy Vas, and Shreya Rao Kamavarapu. @feminamissindia #MissIndiaFinale pic.twitter.com/mU13jH6aNF

— COLORS (@ColorsTV) June 19, 2018
Congratulations to the Top 5 contenders of the Femina Miss India 2018 grand finale. Gayatri Bhardwaj, Meenakshi Chaudhary, Stefy Patel, Anukreethy Vas, and Shreya Rao Kamavarapu. @feminamissindia #MissIndiaFinale pic.twitter.com/mU13jH6aNF

— COLORS (@ColorsTV) June 19, 2018
.@Asli_Jacqueline and @ManushiChhillar shake a leg at the grand finale of @fbb_india @colorstv Femina Miss India 2018 at @DomeIndia
Co powered by @sephora_india and @DS_SilverPearls #MissIndiaFinale pic.twitter.com/A0kHdGXBXb

— Miss India (@feminamissindia) June 19, 2018
The hot and sizzling @Asli_Jacqueline dedicates her performance tonight to all the Miss Indias who took the country global, by winning the title of @MissWorldLtd! @feminamissindia #MissIndiaFinale pic.twitter.com/EuTwfUdfZg

— COLORS (@ColorsTV) June 19, 2018
What a ravishing beauty! #KareenaKapoorKhan On stage with @ayushmannk and @karanjohar. @fbb_india @ColorsTV Femina Miss India 2018 grand finale at @DomeIndia
Co powered by @Sephora_India And @DS_SilverPearls #MissIndiaFinale pic.twitter.com/JqwB3gTJyk

— Miss India (@feminamissindia) June 19, 2018