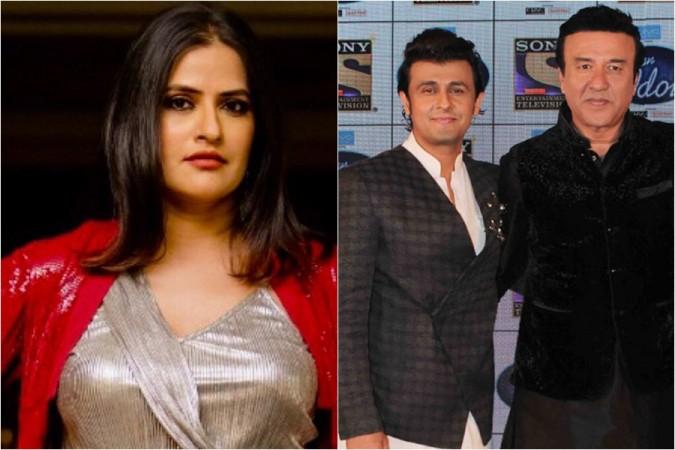 Singer Sonu Nigam has asked for proof against music composer Anu Malik who has been accused of sexual harassment by mulitple women amidst the MeToo movement.
In mid-October this year, singer Shweta Pandit and Sona Mohapatra had accused Anu Malik calling him a paedophile and and a repeat sexual offender. Singer Alisha Chinai, who had taken Malik to court for sexual harassment in the 90s, too had said that whatever was said and written about the Indian music composer was absolutely true.
Following mulitple sexual harassment allegations, Malik was asked to step down as a judge from Indian Idol 10 show. But the move of sacking and publicly shaming Malik didn't go down well with Sonu Nigam.
Sonu, whose association with Malik goes long back in the 90s, addressed the issue at the Agenda Aaj Tak 2018. While defending Malik, Sonu asked "who has given us the right to be the judiciary of someone else's life?"
"If you say, 'Anu Malik met me this morning', that's fine. You accused him without any proof; let's accept that too. Had he [Anu Malik] wanted to say anything, he could have said a lot. But he did not. If I say that you misbehaved with me, you will ask me for proof. But there's no proof, right? Despite that, people are respecting the accusers, who are tarnishing Anu Malik's name. But how can you ban him? How can you snatch his bread and butter? How can you torture his family?"
"Who has given us the right to be the judiciary of someone else's life? Or you provide concrete proof. I have two sisters. I stand for them. But that does not mean that you put a stop to someone's work. How can that happen?" Sonu said at the event.
He further added, "The torture, harassment, can happen anywhere. It happens in the corporate world too. You have accused him, you have shamed him; now don't punish his family. Get proof first."
However, Sona Mohapatra, who was one of the first women to bring forth Malik's predatory behaviour into the light, said she felt let down after Sonu chose to side with Malik.
In a series of tweets, Sona expressed her disappointment and asked, "So much sympathy for a millionaire losing work? So much empathy for his privileged family being 'tortured'?How about the scores of girls & women he tortured?Multiple testimonies not proof enough?
1)Not 1 but possibly + women & MEN can attest to Anu Malik's deplorable abusive behaviour.
2)I guess Mr. Sonu Nigam expects all these women/underage girls to - a)strap recording devices b)carry spy cams,other proof gathering devices cus they have much to benefit defaming him?
I always found Sonu Nigam to be brighter than most of his peers, intelligent, so talented, excellent at his craft & yes, kind too. Feel so let down hearing him talk like this & choose the dark side to side up with. I'm hoping he realises how sad this is."