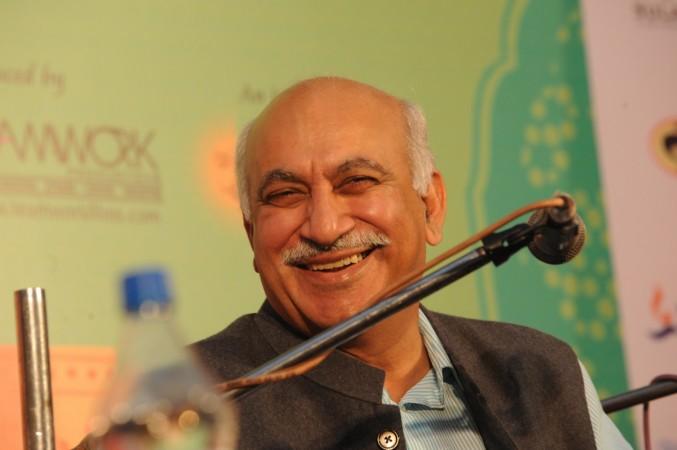 Pallavi Gogoi, the chief business editor of NPR, has levelled rape allegations against MJ Akbar, the former Minister of State for External Affairs, while she was working as a young journalist.
In her story, published by the Washington Post, Gogoi said that the incident happened when she was 22 years old, while she was working with the Asian Age newspaper -- where Akbar was the editor-in-chief.
At that time, the majority of the workforce at the Asian Age were women, with most of them just out of college. Gogoi wrote that she and her colleagues were "star struck" while working with a "brilliant journalist" like Akbar. The Asian Age, she says, was a new publication, one that Akbar had launched himself when he was in his 40s.
Gogoi goes on to write that his staff were often berated and abused verbally, but they took it in their strides as they believed he was the best and learning from the master himself was worth the trouble. She mentions that Gogoi was appointed the editor of the op-ed page while she was 23.
It was around this time, in 1994, she recalls was the first time Akbar had assaulted her, "I went to show him the op-ed page I had created with what I thought were clever headlines. He applauded my effort and suddenly lunged to kiss me." The second instance, she alleges, happened in Mumbai when she was invited to Akbar's hotel room where he attempted to kiss her again.
After physically fighting him off, she was left with scratches on her face. She also allegedly lied to her friends saying that she fell down and got bruised. After returning to Delhi, Akbar reportedly threatened to fire her if she resisted him again, but she stayed in the job in spite of it.
She alleges the rape happened at a hotel room in Jaipur when she was called in to discuss the particulars of a story that she was working on. "In his hotel room, even though I fought him, he was physically more powerful," she writes.
"He ripped off my clothes and raped me. Instead of reporting him to the police, I was filled with shame. I didn't tell anyone about this then. Would anyone have believed me? I blamed myself. Why did I go to the hotel room?"
Gogoi said that she continued at the paper and that work took her overseas, this time to the UK, hoping that she will not have to work directly under Akbar, "Except the truth was that he was sending me away so I could have no defenses and he could prey on me whenever he visited the city where I would be posted," she wrote.
Another horrifying incident took place in the UK where Akbar allegedly hit and threw office stationery at her because she was talking "in a friendly manner to a male colleague." Soon after, she attempted to leave the UK and head for the US on work, but Akbar reportedly summoned her back to Mumbai. This was when she quit her job, she writes.
The report further added that they reached out to MJ Akbar's lawyer, Sandeep Kapur for his comments on this account. "My client states that these [incidents and allegations] are false and expressly denied," the lawyer was quoted as saying by Washington Post.