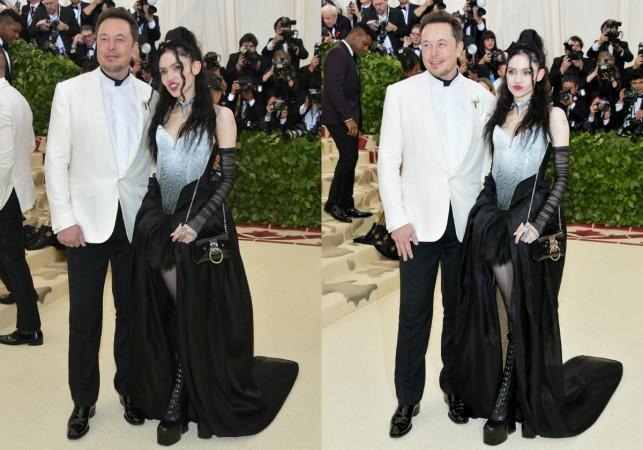 The Metropolitan Museum of Art Costume Institute benefit, popularly known as the Met Gala, took place May 7. The Met Gala 2018's theme was "Heavenly Bodies: Fashion and the Catholic Imagination" and celebrities took over the red carpet with their outfits. But it was Elon Musk who turned more heads and not because of his outfit.
The American businessman aka CEO of SpaceX and Tesla got internet buzzing after he made a debut on the Met Gala 2018 red carpet with his new girlfriend Grimes. Before their grand appearance, Page Six revealed that the couple will make an appearance at the Oscars of Fashion.
"Claire will be wearing a dress designed in the 'Glass and Bone' aesthetic," a source told the publication before the Gala kicked off. "Elon and Claire created a sketch of it over dinner and assembled a team of artists and designers to help them have it come to life."
Musk attended the annual event in a black tuxedo jacket over a Papal-style shirt, black trousers and a white robe. Canadian singer Grimes chose to sport a gothic look in a black-and-silver corseted gown for their first appearance as a couple. Musk's new girlfriend comes months after he and actress Amber Heard parted ways.
The singer, who is formally known as Claire Boucher, is said to be dating Elon Musk for a month now. The singer is known for her albums namely Visions (2012) and Art Angels (2015). The 30-year-old singer gained recognition after her song Oblivion became the talk of the town.
According to the publication, Musk and Grimes bonded over a nerdy tweet and eventually began dating. A source explained that Musk planned on making a Twitter a joke only to discover that Grimes had already made it.
"Elon was researching the idea of joking about Rococo Basilisk, and when he saw Grimes had already joked about it, he reached out to her," the insider said. "Grimes said this was the first time in three years that anyone understood the joke. They were both poking fun at AI."
The business tycoon has been hinting about his attraction towards the artist lately. In March, he tweeted her video with Janelle Monae called "Venus Fly", with the caption: "Best music video art I've seen in a while."
Apart from Musk and Grimes, Shawn Mendes and Hailey Baldwin, and Cole Sprouse and Lili Reinhart confirmed their relationships at the Met Gala 2018.