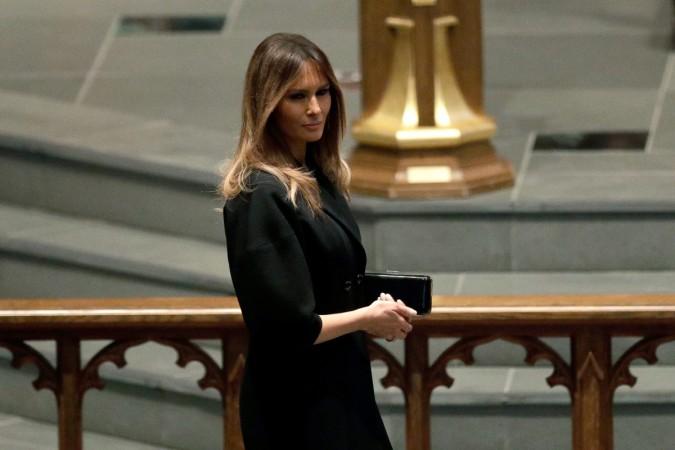 For 24 days, Melania Trump kept everyone guessing about her whereabouts. The First Lady of The United States, who made her last appearance in May, reappeared for a public event on June 4 by attending the Gold Star event.
The press was not allowed to cover the event by the White House out of respect for the families. So only 40-odd people were the only ones who saw Melania in person on Monday.
Later, the White House and Melania shared a few photos from the event. While President Donald Trump was visibly seen attending the event, many found it difficult to spot Trump's wife.
Seeing the picture more closely, you'd spot Melania seated beside the POTUS. Leaning back on her chair, Melania chose to dress in a knee-length black dress, pair it with a pair of black stilettoes.
FLOTUS gave the social media a glimpse of her first public appearance since her disappearance by sharing three pictures from the occasion. "Tonight @POTUS & I were honored to pay tribute to our fallen heroes. Thank you to the Gold Star families that joined us in celebration & remembrance."
The hard-to-see photos got Twitter down to business. Fans and followers of Melania were glad to see her back to the FLOTUS duties while many other joked that it might not be the FLOTUS in the pictures.
Here's how Twitter reacted to Melania's reappearance:
Before she tweeted pictures from the event, CNN reported that Melania was indeed in the room. The publication also reported that Trump joked about Melania's prolonged absence by saying that the media were speculating she had left him. He then pointed out at Melania and informed the people seated in the room that she was there.
Melania's last appearance at an official event was on 10 May, when she joined Trump to welcome three former US prisoners released from North Korea. Following that, she was admitted to hospital for a benign kidney condition. She was discharged on May 19 but wasn't heard of since then. Internet users began speculating theories and few even issued missing posters hoping to find Melania.