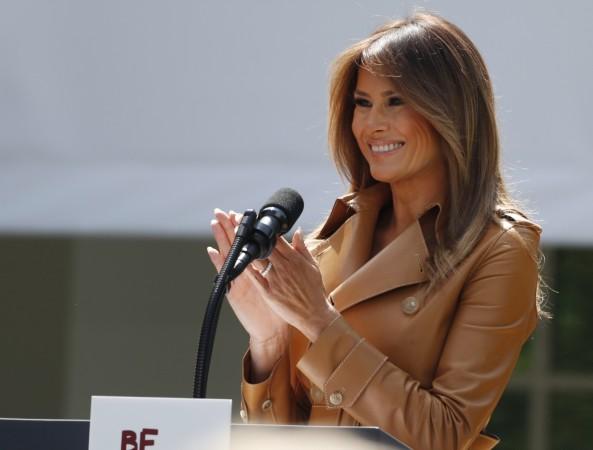 After Melania Trump became the butt of jokes for her Christmas photos and paved way for some hilarious memes for sharing a laugh with Barack Obama, the Trump wife was trending yet again on May 22. The FLOTUS became the talk of the town following reports of a sinkhole being spotted on the lawn of the White House.
According to a White House reporter, the sinkhole appeared on the North Lawn, which is right outside the press briefing room. The hole has been there for almost a week now and is growing deeper with every passing day.
The update from the White House triggered a series of jokes on social media platforms about the First Lady, suggesting that it is Melania's failed attempt at digging an escape tunnel.
"Melania's escape tunnel has been discovered," a user said. "Y'all just gonna expose Melania's escape route like dat?" tweeted a Twitter user.
"The growing sinkhole at the White House is a. Hell saying welcome b. A deep state passageway c. Escape route for Melania that could work d. Javanka's graceful exit e. The Swamp engulfing the criminals f. All of the above g. None of the above," added another.
"Melania was trying to tunnel her way to freedom and misjudged the distance. Now we know where she has been the last two weeks #sinkhole," a tweet read.
Looks like Melania's escape tunnel has collapsed.https://t.co/4gC87QRuAJ

— Sher Watts Spooner (@SherSpooner) May 23, 2018
BREAKING: Melania is seen emerging from the #Sinkhole #MAGA pic.twitter.com/G33GbCFgNB

— Be Best, Y'all (@ShomahKhoobi) May 23, 2018
Security footage of @FLOTUS Melania Trump, proving that the whitehouse sinkhole is actually her escape tunnel. pic.twitter.com/LdW7T3j0YU

— Luke McGarry (@lukeymcgarry) May 22, 2018
President Trump has commented on the recent activity on the White House lawn, calling the sinkhole 'tremendous, and believe me, I know tremendous holes."

Melania responded as well, saying "of course it's a sinkhole, and why would you be suspicious of this shovel I'm holding?"

— Yvette (@TheSciBabe) May 22, 2018
My escape tunnel one foot short :( https://t.co/qNWrWZWRNn

— Rogue Melania?? (@RogueFirstLady) May 22, 2018
Melania's tunnel...just a bit short. https://t.co/Cx1kLYpxuA

— Carl Petersheim (@CarlPetersheim) May 22, 2018
"Say kid, when U get done there, could U cover up that sinkhole, Melanie is trying to dig her way to Canada" pic.twitter.com/EnpPb72EfC

— ✨Mr Scott✨Rogue Deep State (@MrScottLads) May 22, 2018
Even Jimmy Kimmel couldn't resist taking a dig at the sinkhole-Melania situation:
Others excluded Melania but delivered some hilarious memes:
Apparently a #Sinkhole has appeared on the White House Lawn. Didn't this happen in front of Mar-a-Lago last year, too? Either the universe has a sense of humor or the Russians are still trying to build that back channel to Trump.

— Melissa Morales (@Melissa_In_DC) May 23, 2018
A #sinkhole has opened on the White House lawn. This may be the event which finally pushes me to believe there really is a God.

— BarbieSmith (@smithsbarbie) May 22, 2018
There is something wonderfully poetic about a #sinkhole appearing on the @WhiteHouse grounds. I've already seen tweets that it could be because Earth is angry about @EPAScottPruitt. Or because all the WH leaks might've created a fissure. Keep 'em comin', America.

— Eric Swalwell (@ericswalwell) May 23, 2018