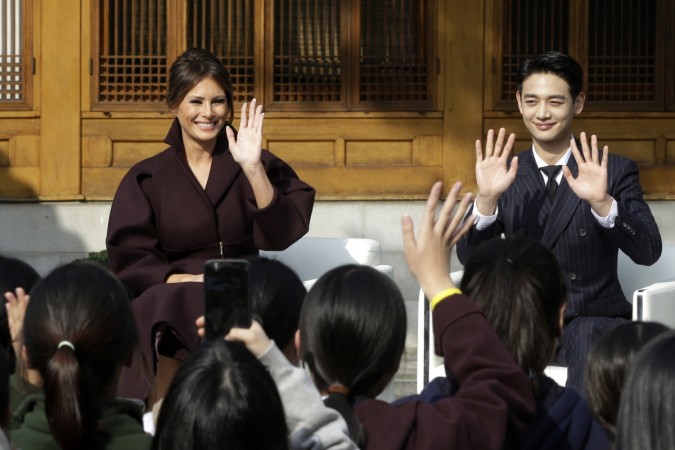 Now, this is what we call a fan moment! US President Donald Trump and his wife Melania Trump are touring different parts of Asia. While Trump has been making some ridiculously scandalous statements that media has got used to, Melania has got the fashion police on their toes yet again.
The FLOTUS has picked up some stunning pieces for the Asian tour and boy, she is turning some heads. However, when Melania walked out sporting a $3,826 plum Delopozo coat in Seoul, South Korea, little did the First Lady know that it wouldn't be her day.
Also Read: Trump's communications head Hope Hicks wears tuxedo; overshadows Melania at Japan state dinner [PHOTOS]
Sporting the bold and beautiful puffy sleeved attire, the US First Lady stood out when she accompanied Kim Jung-sook, wife of South Korea's President Moon Jae-In, at an event organised for the American leader and his wife.
While the coat was as formal as things could get, Melania added a chic twist to the attire. She chose to sport a pair of neon pumps and bold pink lips while tying her hair back.
Although the attire was enough to make headlines, Trump's wife was soon sidelined by Korean pop star Choi Min-ho. Melania met a group of middle school students as part of Girls Play 2! Initiative, an Olympic public diplomacy outreach campaign organised at the US Ambassador's Residence in Seoul, South Korea.
During the meet and greet session, teenage girls were seen smiling and talking to Melania. However, as soon as one of the girls in the group notices the SHINee singer standing beside Melania, she bursts into screams. The moment was caught on camera and has gone viral ever since.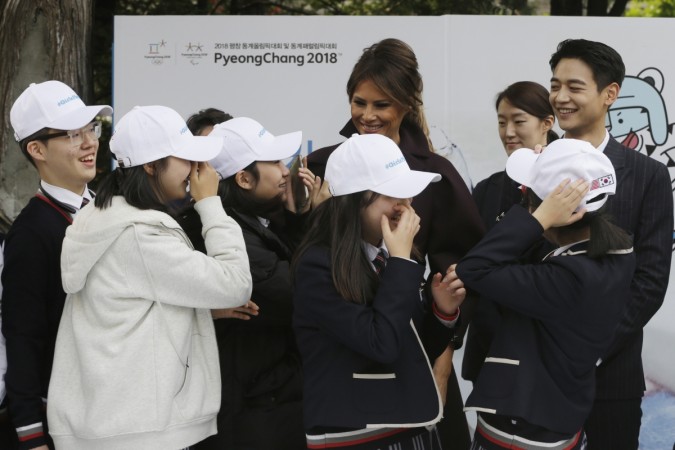 Billboard reports that Choi Min-ho paid a surprise visit to the venue where the first lady gave a speech on the importance of giving girls equal access to sports. As soon as the girls notice him, they jump in excitement, clapping and cheering as the singer flashed his adorable smile.
It is to notice that Melania was not offended by the sudden gush of excitement. Instead, she stood there smiling at the girls as they enjoyed their fan moment.