Japanese Prime Minister Shinzo Abe hosted an official dinner party at Akasaka Palace in Tokyo in honour of US President Donald Trump and First Lady Melania Trump, but it was 29-year-old Hope Hicks, who stole the limelight.
Hicks, who is White House Communications Director for Trump, attended the official dinner party on Monday wearing a chic tuxedo, overshadowing the ever-glamorous Melania. Hicks ditched her usual dress and wore a traditional Le Smoking tuxedo with a bow tie, that made it look like she can give tough competition to James Bond.
The 29-year-old looked smoking hot with minimal makeup, while her golden tresses rested on her shoulder. The smokey eye make-up and a slick of bold pink lipstick completed her look.
On the other hand, Melania wore a red floor-length Valentino gown with short sleeves. She completed her glamorous look with a low hairdo, pink lipstick, smokey eye make-up and diamond studs.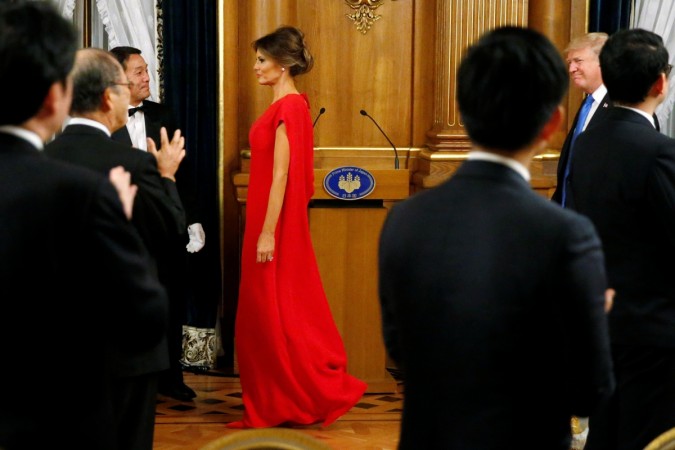 Even Twitteratti praised Hicks for her choice of dress. Several tweeted saying that she looks gorgeous in the tuxedo.
"White House Communications Director Hope Hicks stuns in this Tuxedo number at a Japanese State Dinner. Wonder what she will wear to her Mueller Interview. And the Cory Lewandowski's Divorce proceedings," one user said.
"Fashion Notes: White House Communications Director Hope Hicks in this menswear-inspired tuxedo for Japanese state dinner is everythingggg."
"#HopeHicks is the most beautiful @WhiteHouse Communication Director OF ALL TIME. Thanks to @realDonaldTrump for bringing back the class!"
"Hope Hicks - State banquet (Japan) Black tux with the silk bow tie to boot. Respect."
"ok so hope hicks wore a tux last night to the dinner in Japan and I'm dead thx bye."
Meanwhile, Trump, who is on his first official 12-day trip tour in Asia, wore his black suit and blue tie for the official dinner. On Tuesday, he arrived in South Korea along with Melania and Hicks. After South Korea, he will be visiting China, Vietnam, and the Philippines.