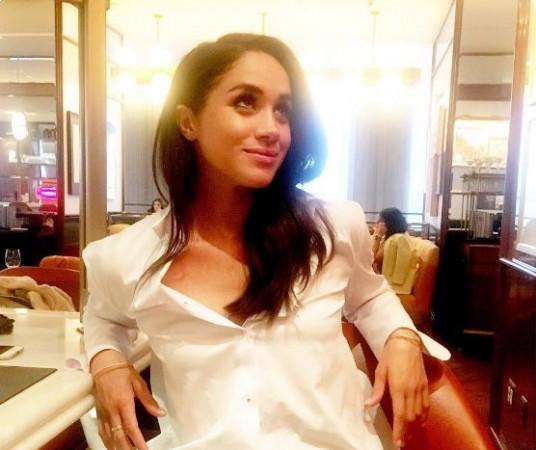 Prince Harry's girlfriend and Suits actress Meghan Markle made a short trip to India. However, she was in India over a week for a cause.
Also Read: Suits Season 6 midseason premiere preview: Is Meghan Markle's Rachel leaving the firm?
Markle arrived in India last week to work with a charity organisation World Vision Canada that supports and works towards changing the lives of children and their families. Markle is the Global Ambassador for the organisation, just like Harry's late mother Princess Diana was.
The 35-year-old actress visited New Delhi and travelled to several other places as a part of the organisations. She also spent some time with Shamina Shafiq, a former member of the National Commission for Women, Vogue India reported.
After finishing her work in Delhi, she flew down to Mumbai. Markle was spotted at Mumbai airport in a casual look on Saturday. She wore black T-shirt and pant with a cap and carried a green jacket with a bag, but what surprised several is mehendi (henna) on her hand. Markle applied mehendi on her right hand when she met young girls during her trip.
"Meghan had been planning this [for the past eight months], compiling her own research and helping set the agenda for the trip," a source told Us Weekly. "She didn't want to be given notes by someone else and just show up. These are important areas of interest for Meghan and cover issues she feels extremely passionate about."
"Meghan believes that all women, in every part of the world, should have the right to human dignity," the source continued. "She was there to learn about the issues facing women and girls in these communities so she can see what it needed and how she might help," another source said.
Meanwhile, on the work front, Markle is all set for the return of her legal drama show Suits. The legal drama Suits will return for season 6 on January 25.