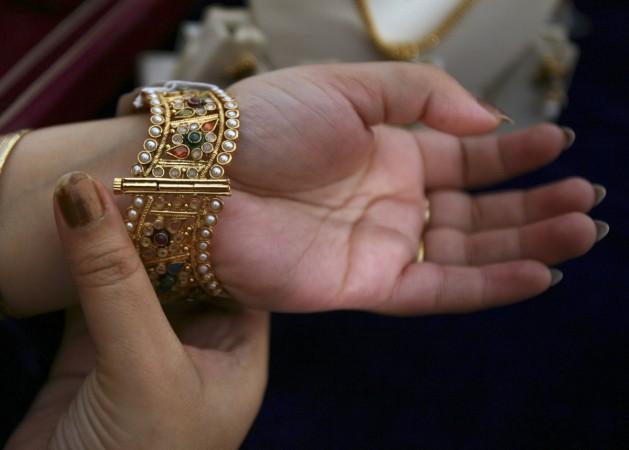 Silver and gold prices rallied on Tuesday on global cues and robust purchases by jewellery traders. The yellow metal gained Rs 330 to close at Rs 29,030 per 10 gm while silver prices rose by Rs 350 to close at Rs 40,750 per kg in the Delhi bullion market.
The day also saw stock markets ending on a bullish note, led by Adani Ports, Tata Motors and Tata Steel. The BSE Sensex closed 173 points higher at 26,899 while the NSE Nifty was up 53 points at 8,289.
Read: Tata Steel, Tata Motors, GAIL lift Sensex in early trade
"Market extended gains in last hour after the IndusInd Bank announced Q3 result. ABB climbed up 13% to close at Rs1175 after the news that the company bagged $640mn deal for long distance power transmission link," brokerage Motilal Oswal Securities Ltd. said in a note.
The ABB stock ended at Rs 1,176 on the BSE.
The fall in benchmark Brent crude prices saw shares of oil marketing companies such as HPCL, BPCL and IOC gaining in the range of 1-2 percent, the brokerage said.
Shares of defence PSU Bharat Electronics Ltd. (BEL) closed 4.02 percent higher at Rs 1,512 after the company informed the stock exchanges that its board would consider stock split.
"With reference to the earlier letter dated January 04, 2017 regarding proposed Board meeting on January 27, 2017, Bharat Electronics Ltd has now informed BSE that at the said meeting, inter alia, the proposal for Sub-division of equity shares of the company of face value of Rs. 10/- each will also be consider by the Board," the company said in its regulatory filing.
Tata Motors said on Monday that Jaguar Land Rover (JLR) sales for December 2016 rose 12 percent YoY to 55,375 units driven by Jaguar F-PACE, Land Rover Discovery Sport, Range Rover Sport and Jaguar XFL in China. Jaguar sales came in at 16,349 units, while Land Rover sales stood at 39,026 units.
Jaguar retail sales rose 95 percent while Land Rover volumes dropped 5 percent, YoY. Land Rover retailed 39,026 vehicles in December 2016, down 5 percent compared to December 2015.
For calendar year (CY) 2016, cumulative JLR sales increased 20 percent to 5,83,312 units in comparison to CY 2015, according to a statement by Tata Motors.