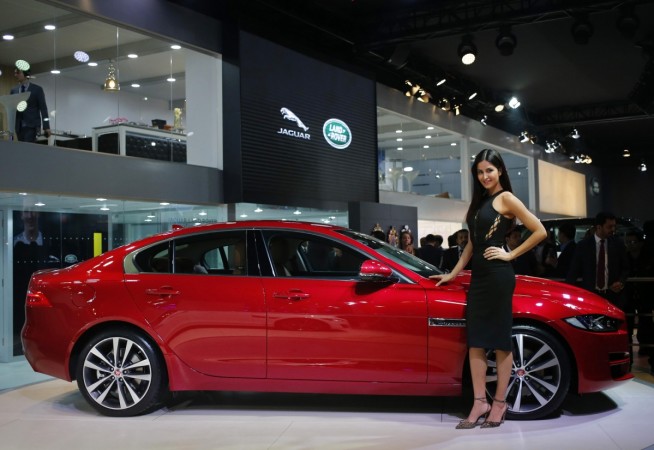 Bullish Jaguar, Land Rover volume sales for December 2016 and higher production and sales numbers for December quarter (Q3) lifted share prices of Tata Motors and Tata Steel on Tuesday morning trade. Tata Motors was up 2.87 percent to Rs 514, while Tata Steel was trading at Rs 429 with gains of 1.65 percent, at around 10.55 am.
The BSE Sensex was trading 123 points higher at 26,849, while the NSE Nifty had gained 35 points at 8,271. Top Sensex gainers, apart from the two Tata stocks, were GAIL (India), Asian Paints and ONGC.
Tata Motors said on Monday that Jaguar Land Rover (JLR) sales for December 2016 rose 12 percent YoY to 55,375 units driven by Jaguar F-PACE, Land Rover Discovery Sport, Range Rover Sport and Jaguar XFL in China. Jaguar sales came in at 16,349 units, while Land Rover sales stood at 39,026 units.
Jaguar retail sales rose 95 percent while Land Rover volumes dropped 5 percent, YoY. Land Rover retailed 39,026 vehicles in December 2016, down 5 percent compared to December 2015.
For calendar year (CY) 2016, cumulative JLR sales increased 20 percent to 5,83,312 units in comparison to CY 2015, according to a statement by Tata Motors.
"Jaguar Land Rover's global retail sales performance for December shows strong growth in China (up 36%), North America (up 30%) and Europe (up 8%) but softer sales in the UK (down 3%) and in other overseas markets (down 16%)," the company said.
Tata Steel production, sales up in Q3
The company reported 28 percent increase in saleable steel production to 3.16 million tonnes for the December quarter, aided by contribution from its Kalinganagar facility. The production was 2.51 million tonnes in the corresponding quarter last fiscal. Crude steel production rose to 3.15 million tonnes from 2.54 million tonnes.
Sales grew to 2.99 million tonnes from 2.34 million tonnes in the corresponding quarter last year, the company said in a regulatory filing to the BSE.
The Indian rupee opened 13 paise higher at 68.08 to the US dollar on Tuesday.
Aside business, here are some of the topics that are trending, on Twitter:
1. Skipped Yoga
The tweet below says why it is trending, needs no explanation.
Skipped Yoga & went to meet mother. Before dawn had breakfast with her. Was great spending time together.

— Narendra Modi (@narendramodi) January 10, 2017
2. BSF Jawan
A Border Security Force (BSF) soldier's 2.55-minute video clip alleging corruption and poor treatment to soldiers is trending, with some saying that he was a "repeat offender" and therefore need not be taken seriously. However, Rajnath Singh, India's home minister, tweeted that he has taken it seriously.
I have seen a video regarding a BSF jawan's plight. I have asked the HS to immediately seek a report from the BSF & take appropriate action.

— Rajnath Singh (@rajnathsingh) January 9, 2017
3. Congress_जीतेगी_पंजाब
The hastag speaks about the party's comeback in Punjab in the upcoming assembly elections.
Punjab demands progress, peace, employment and governance. Punjab demands progress #Congress_जीतेगी_पंजाब pic.twitter.com/8Q5LH1uY5u

— Youth Congress (@IYC) January 10, 2017