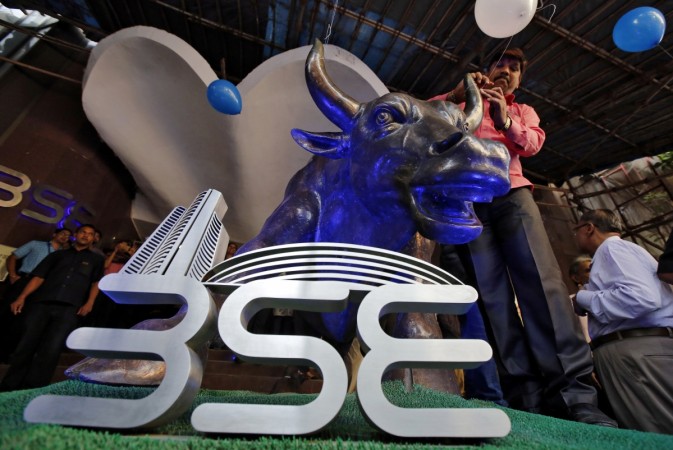 Following the losses in global equity markets, benchmark indices BSE Sensex and NSE Nifty opened more than 3 percent lower on Tuesday. Both Sensex and Nifty fell about 3.5 percent, biggest fall since August 2015.
Market Closing At 3:30 pm:
BSE Sensex was down 561.22 points or 1.61 percent at 34,195.94.
Nifty 50 fell 168.20 points or 1.58 percent to 10,498.30.
At 3:20 pm
Market still remains under pressure: Benchmark indices are still trading under pressure, though there was a steady recovery from day's lows.
BSE Sensex was down 618.46 points or 1.78 percent at 34,138.70.
Nifty 50 fell 186.50 points or 1.75 percent to 10,480.
At 2:20 pm
Sensex now trading about 480 points, or 1.4 percent, lower at 34,264 points after paring some losses in line with a broad recovery in global markets.
Nifty 50 still down 1.2 percent.
Bajaj Finance, Eicher Motors and Bharti Airtel rebounded with more than 1 percent gains, followed by L&T, ICICI Bank, Tata Steel and Dr Reddy's Labs with moderate gains.
At 1:17 pm
BSE Sensex traded lower by 905.38 points, or 2.60 percent, to 33,851.78.
Nifty 50 fell 261.70 points, or 2.45 percent, to 10,404.85.
Companies like Tata Motors, Axis Bank, HDFC Bank, Kotak Bank and Hindustan Unilever were among the top losers.
At 11:38 am
BSE Sensex traded lower by 999.67 points, or 2.9 percent, to 33,757.49.
Nifty 50 fell 307.95 points, or 2.89 percent, to 10,358.60.
MidCap was down 3.16 percent, while SmallCap fell 3.72 percent.
All the sectoral indices on BSE traded lower with realty sector bleeding the most by losing 5.02 percent.
At 11:18 am : Benchmark indices plunged due to ripple effect:
"We couldn't have shifted the Budget's date. The global meltdown in the stock exchange came at a very wrong time for us. Following Budget on February 1, even after declaring there is a long-term capital gain tax, the market was okay at end of the day. There was only minimal disruption on Day 1," said Finance Secretary Hasmukh Adhia in a tweet.
"What happened on February 2 and February 5 was mainly because of the global shake-up. We aren't living in an island so there will be a ripple effect of what is happening in the world on Indian stock markets. Otherwise, the Sensex and NSE would have come down on the first day itself," he added.
At 10:33 am
BSE Sensex traded lower by 1104.47 points, or 3.18 percent, to 33,652.69.
Nifty 50 fell 320.80 points, or 3.01 percent, to 10,345.75.
At 10:30 am
Gold prices surged on Tuesday as investors looked for a shelter in safe havens like gold.
Spot gold was up 0.4 percent to $1, 1345.12 per ounce at 9:53 am following Monday's 0.5 percent gain.
At 10:27 am
Bitcoin, digital currency plunged over 15 percent on Monday to a three-month low.
Bitcoin fell to $6,853.53 in early afternoon trading in New York, marking a fall of more than half from a peak of almost $20,000 hit in December.
At 10:25 am
India's volatility index (VIX) surged 35.9 percent to 21.815, highest since November 23 , 016.
The spike in VIX comes amid global market rout, with Wall Street posting its biggest decline since 2011. (Reuters)
At 9.48 am
BSE Sensex traded lower by 926.27 points, or 2.66 percent, to 33,830.89
Nifty 50 fell 281.75 points, or 2.64%, to 10,384.80.
At 9:24 am
BSE Sensex traded lower by 1,274 points to 33,482.81.
Nifty 50 fell 390 points to 10,276.30 in opening trade.
Tata Motors slumped 6.45 percent to Rs 370.50 on the BSE. Axis Bank, YES Bank, Adani Ports and Tata Steel declined up to 4.27 percent.
Tata Steel, IndusInd bank, HDFC, L&T and Maruti Suzuki eased up to 2.2 per cent.
Also Read : Stock market today: Why benchmark indices are trading low
(With inputs from agencies)