Real Madrid will look to sell Gareth Bale to Manchester United in order to complete a world record deal for Kylian Mbappe. The France teenager has been Real Madrid's number one target this summer, with Zinedine Zidane keen to beat the likes of Arsenal, Manchester City and PSG to the signature of the most coveted youngster in Europe.
The European and Spanish champions have been trying to agree a fee with Monaco for Mbappe all summer, and a report in Marca on Tuesday claimed the club had finally agreed a €180 million deal.
While Monaco have denied those claims, it does look like Real Madrid are ready to move heaven and earth to complete a world record transfer for Mbappe. However, in order to fund the move and also, crucially, convince Mbappe he will get enough playing time, Real Madrid might have to sell a superstar.
Cristiano Ronaldo was rumoured to be on his way out of the Bernabeu after he was charged with tax fraud in Spain, while Karim Benzema has also been linked with a switch away. Gareth Bale is the third of the famous "BBC" attacking trio, and now it looks like the Welshman might be the one who will make way for Mbappe.
According to Goal, who say Manchester City are also ready to match the €180 million offer for Mbappe, Real Madrid are willing to offload Bale to Man Utd, so that they will have more than enough funds available and be able to convince Mbappe playing time won't be a problem.
Real Madrid have so far managed to pick up around £80 million through the sales of Alvaro Morata, to Chelsea, and Danilo to Manchester City. James Rodriguez left on a strange two-year loan deal to Bayern Munich, but Florentino Perez and Zidane feel they need to let one more big-name player go in order to get the Mbappe transfer over the line.
And that man could be Bale, primarily due to the fact that Manchester United remain keen on the Welshman.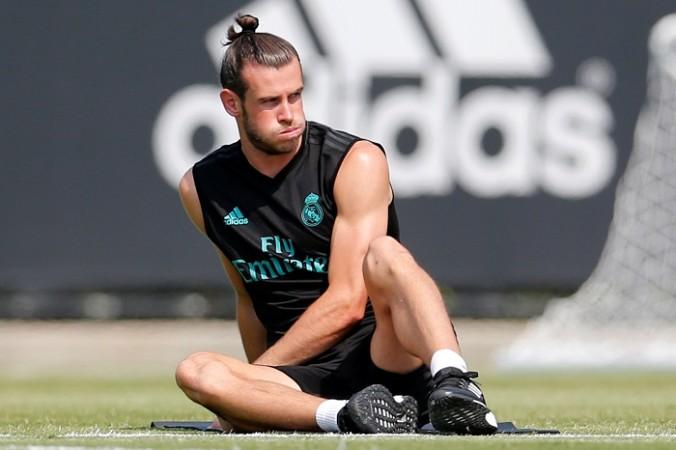 Jose Mourinho made headlines earlier this week when he said "I can't buy you because you don't talk to me," to Bale in the tunnel when Manchester United played Real Madrid in the US, and while that might have been said jokingly, a Bale to Manchester United transfer has always been a possibility.
The 28-year-old did not have the greatest of seasons last time around, with Zidane preferring Isco to him in the Champions League final, which Real Madrid went on to win by beating Juventus. The arrival of Mbappe will put further pressure on Bale to perform and, crucially, stay fit, so there is a chance that he might think moving to Manchester United, where he will be THE star, could be the better option.
Bale, though, has repeatedly said he is quite happy at Real Madrid, but all that could change if the Mbappe deal goes through.
Mourinho has been looking for a wide player all summer, with Manchester United unable to agree a fee with Inter Milan for Ivan Perisic. So, if Bale were to become available, you would expect the Premier League side to jump into the deal.
Money, for EPL sides, after all, is no object, but the frosty relations between Real and United could pose a problem.