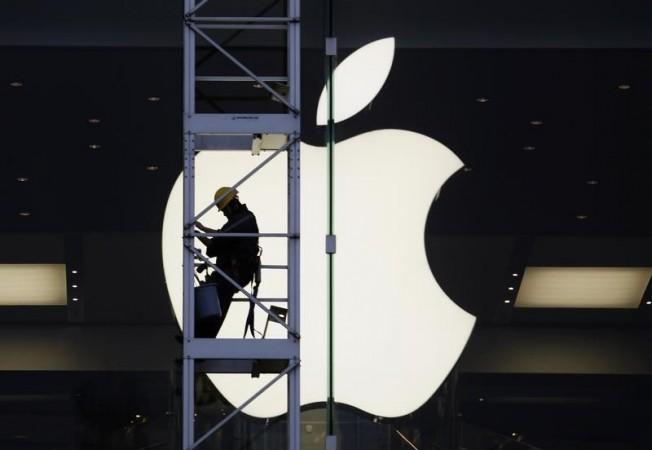 Last week, the Karnataka government confirmed that they have received an official proposal from Apple to set-up an iPhone assembly unit in Bengaluru.
Apple's representatives -- Priya Balasubramaniam (vice president, iPhone operations), Ali Khanafer (head, government affairs), Dheeraj Chugh (director, iPhone operations) and Priyesh Povanna (country counsel) have also held a meeting with Karnataka ministers and respective departmental secretaries to sort out long-term tax incentives and other bureaucratic procedures for setting up of the iPhone manufacturing unit.
In a press statement, Priyank M Kharge, Minister of State for IT (Information Technology) and Tourism, said the meeting with the Apple officials was positive and welcomed Apple's intention to build the iPhone assembling plant.
Kharge also indicated that Apple might start producing iPhone at the Bengaluru plant in late April or early May this year.
It is believed that Apple's Taiwan-based supply partner Wistron Corp is expanding the company's already existing factory unit at Peenya in Benguluru exclusively for Apple iPhones.

International Business Times, India, in a bid to get a confirmation, asked Apple India media representatives about the recently concluded meeting with the Karnataka government. But, the company refrained from providing any official statement, hinting that Apple is yet to find consensus over building the iPhone manufacturing unit.
However, last weekend, in a surprise turn of events, Prime Minister Narendra Modi's official mobile app shared an IBTimes, India story titled -- 'Make in India: Apple iPhone production in Bengaluru to commence soon'-- on the official mobile app, almost confirming that iPhones will indeed come with 'Made in India' tag later this year.
Apple India in its job portal has also listed two production related job offers in Bengaluru -- one for an iPhone Operations Program Manager (OPM) and a New Product Introduction (NPI) Product Quality Manager -- adding credence to the reports that Apple is moving forward with the iPhone manufacturing unit in Bengaluru.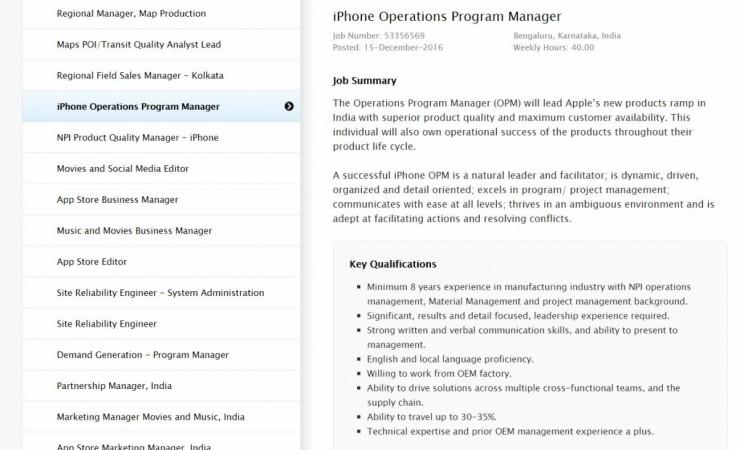 Once operational, India will be the third country after China and Brazil to house Apple iPhone manufacturing units.
Bengaluru already hosts iOS App Design and Development Accelerator and the upcoming iPhone assembling plant will be Apple's second big investment in Karnataka within a span of eight months.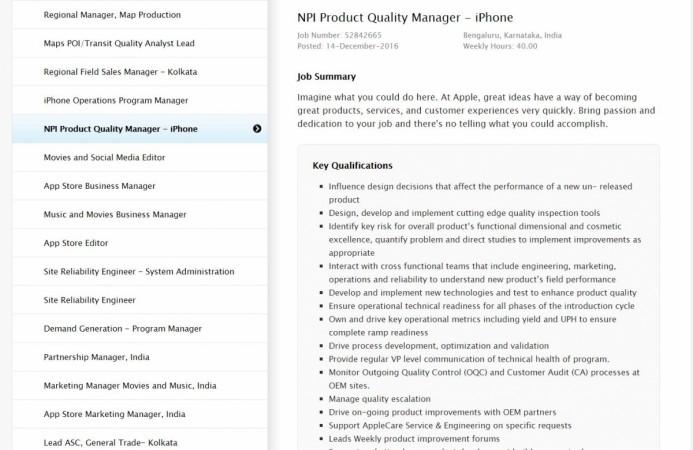 Going by the reports, it looks like Apple is very serious about its plans for India. The company recorded its highest quarterly revenue collection in its last quarter ending December 2016, but revenue from mobiles continue to decline in developed markets of America, Europe and China as the smartphone reach has reached its peak. Only India seems to be the bright spot for the Cupertino-based company.
What are the benefits of Apple iPhones being manufactured/assembled locally?
"Tax differential between locally manufacturing mobile phones and imports is around 10-12%. Currently, iPhone launch prices in India have been amongst the highest globally .Hence, Apple's decision of locally manufacturing in India will enable them to launch the iPhones at lower prices than it has been in the past few years because of higher import taxes in India,"Karthik J, senior mobile market analyst at International Data Corporation (IDC), said to IBTimes India.
If things go as planned, Apple may also consider to source iPhones to other neighboring countries from India, Karthik added.
Apple rivals -- Samsung, Asus, Lenovo, Xiaomi and OnePlus among others in association with Foxcon and other supply partners have already established local manufacturing units in India.
By locally assembling the iPhones, the Apple device's price will get relatively more affordable and also match global prices. This might also result in lesser carry-in of iPhones from other countries, Karthik said.
"Given that iPhone 5S being the top selling model for Apple, the entry level iPhones would become even more affordable. In addition, this would also have an emotional connect and appeal amongst consumers who would like to purchase "Made in India" products," Karthik added.
Watch this space for latest news on Apple products.