If you are a Lionel Messi fan, one of those die-hard ones, who cannot hear anything bad about their idol, you will, no doubt, find a way to excuse Messi and his performances in this Fifa World Cup.
It would probably start with "Messi doesn't have the right team and the coach doesn't know how to utilise Messi properly," before going on to, "One man alone cannot do everything, football is a team sport," and end it with "It isn't Mess's fault, Argentina were just not good enough for him."
And while there is some basis for those arguments, the bottom line is – Lionel Messi, apart from a half of football, when he scored that delicious goal against Nigeria, was a shadow's shadow of himself in this Fifa World Cup 2018, and when Argentina needed him, he just couldn't step up.
The World Cup started with Messi missing a lot of chances, including that penalty, against Iceland, and that performance almost seemed to knock the confidence out of the great man.
Because, what followed was a performance where Messi being on the pitch or off it, would have had the exact same effect, as Croatia ran riot.
You hoped – no football fan will be unable to admire the Argentinian's extraordinary talents – that goal against Nigeria, where two delectable touches and a perfect finish, would reignite Messi's tournament; that the goal would be the catalyst for the little magician to turn on the style, like he does so often for Barcelona; that France would be the ones who would face his wrath next in the last 16.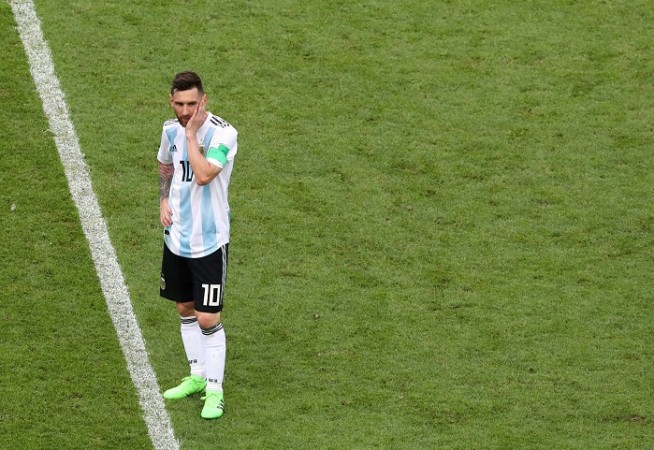 Instead, we saw another timid Mess performance, where he was there some of the time, but went missing way too often. And then, when a certain 19-year-old who goes by the name of Kylian Mbappe decided this was going to be his moment, Messi turned on the invisibility cloak, going into hiding when Argentina needed him to stand up and say, "Alright, those are two really good goals young man, but I can do better, much better."
Had he done that, then Messi would have gone into another realm, the kind that fantasy is made of.
Unfortunately, Messi showed he is all too human, particularly when things go against him in an Argentina shirt.
You never know, had it been a Barcelona shirt, and the players around him been a little better, Messi might have just turned that goalscoring machine on and dragged his team back into the game. Instead, he dropped his head, went through the motions, and even when a decent performance came to him, all he could manage was a weak shot, kind of like his overall performance.
This just wasn't to be the 31-year-old's tournament, and while Messi's lack of a World Cup title should not be used as a stick to beat him with in the conversation for the all-time greatest, this exit will hurt, really, really hurt.