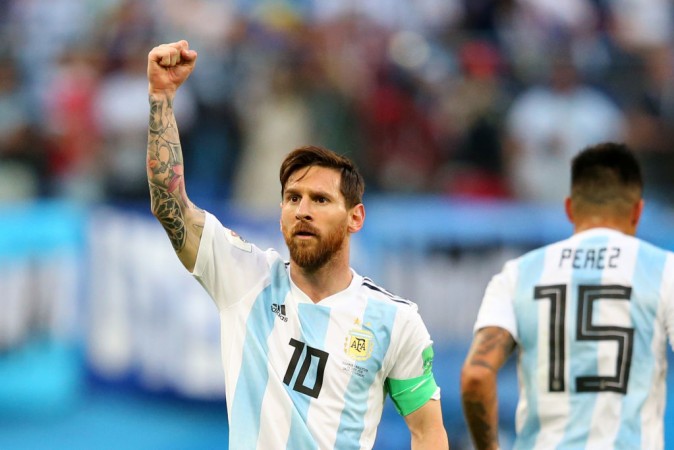 Hello and welcome to the highlights of the Group B clash of Fifa World Cup 2018 between Argentina and Nigeria from St. Petersburg.
Live Updates
2018-06-2701:41 (IST)
What a dramatic finish, Messi and Argentina live to fight another day.
First things first, Argentina will face France in the Round of 16 on Saturday, June 30.
So, this weekend...

SAT:
France vs Argentina
Uruguay vs Portugal

SUN:
Spain vs Russia
Croatia vs Denmark

If you've got plans, cancel them. #WorldCup

— FIFA World Cup ? (@FIFAWorldCup) June 26, 2018
Lionel Messi received a yellow card for time wasting in the final moments of the dramatic match in St. Petersburg.
Nigeria were the better team for the most part of the second half and were threatening to find a late winner. However, against the run of play, Marcos Rojo emerged as the unlikely hero for the Albiceleste as he drilled one past the Nigerian goalkeeper from a beautifully delivered cross from the right.
The entire Argentina bench ran towards the goal-scorer even as Jorge Sampaoli was jumping with joy. Diego Maradona, at the stands, was happy too.
Nigerians are devasted. Captain John Obi Mikel and his teammates have sunk to the pitch.
Argentina made a nervy start but Ever Banega's brilliant long ball and Messi's fantastic finish gave them the early lead.
However, Nigeria, after getting the lead through Viktor Moses' spot kick, were on top of their game. Ahmed Musa troubled the Argentine defence with umpteen runs down the left but it all meant nothing when Rojo got that goal, which will be celebrated back home for days to come.
2018-06-2701:27 (IST)
Full-time: ARG 2-1 NIG
Argentina are through to the Round of 16. They have qualified to the knockout along with Group D winners Croatia, who have defeated Iceland 2-1 in Rostov-on-Don.
2018-06-2701:20 (IST)
87 min: Goal! Marcos Rojo is the man for Argentina
Brilliant cross, brilliant finish by Argentina. Mercado puts a delightful ball from the right and Rojo runs into the box to slot it into the box with is left foot.
St. Petersburg is buzzing. What a finish this! Tears of joy for most of the fans at the stands.
It makes it 2-1 and as it stands, Argentina are progressing to the Round of 16 along with Croatia, who are leading Iceland 2-1 in Rostov-on-Don.
2018-06-2701:12 (IST)
80 min: Higuain misses!
Even as the clock is running down, Higuain missed a good opportunity to put Argentina ahead. The striker received a pass from the left but his left-footed shot went over the bar.
Meanwhile, Argenitna have replaced Angel di Maria, who had a poor night, with Meza. Aguero comes in for Tagliafico.
In Rostov-on-Don, Iceland have equalised through a Gilfy Sigurdsson penalty.
2018-06-2701:09 (IST)
76 min: Drama in St. Petersburg
Nigeria put more pressure on Argentina on the break. Musa makes the run down the left once again and puts a dangerous ball in. Ighalo makes a mess of the shot from a great position.
Meanwhile, Nigeria are claiming another penalty as the ball seemingly hit Marcos Rojo's hand during the centre-back's scrappy clearance attempt of Musa's cross. Captain Obi Mikel is claiming it and the referee is forced to use VAR.
However, the penalty wasn't given to Nigeria this time as Rojo's handball wasn't deliberate.
2018-06-2701:04 (IST)
71 min: Nigeria on top here
Nigeria are threating to take the lead. After Gonzalo Higuain struggled to find any space inside the box, the African nation hit on the counter as Musa once again ran down the left.
He plays a pass to the middle and an incoming Ndidi fires it over the post from just outside the box. Argentina survive but it's going to work for them unless they pick themselves up.
Argentina haven't had a single shot on target so far in the second-half.
2018-06-2700:50 (IST)
61 min: Argentina make a change
Christian Pavon replaces Enzo Perez as Argentina make their first change of the match. Nigeria are asking questions here. Argentina need to make something happen to swing the momentum back in their favour.
2018-06-2700:49 (IST)
59 min: Loss of concentration could have costed Argentina
A moment of loss in concentration helps Ahmed Musa make a dangerous run down the left flank. The Leicester City star displayed excellent control and fired one into the box from the left but Javier Mascherano makes a crucial save. Relief for the Albiceleste.
2018-06-2700:47 (IST)
55 min: As it stands, Argentina face an early exit
Minutes after Moses levelled things in St. Petersburg, Croatia have taken the lead against Iceland in Rostov-on-Don.
As it stands, Croatia and Nigeria progress to the knockout from Group D.
2018-06-2700:43 (IST)
51 min: Nigeria equalise
A cool finish from Viktor Moses as he deceives Armani before slotting one into the net to make it 1-1 in St. Petersburg.
.It was a disastrous yellow card for Argentina. VAR was called in to check but the referee stuck to his decision after replays showed Mascherano brought down the Nigerian defender.
Nigeria have upped their ante here. They're troubling the Argentine defence now.
2018-06-2700:39 (IST)
49 min: Nigeria gets a penalty
Against the run of play, Nigeria get a penalty. Javier Mascherano gets a yellow card for bringing down Balogun inside the box as a cross was delivered from the corner.
2018-06-2700:34 (IST)
Messi giving a small pep talk inside the tunnel
Lionel Messi is taking charge of the team here. He's giving a little pep talk to his teammates ahead of the start of the second-half.
2018-06-2700:25 (IST)
Half-time: ARG 1-0 NIG
Lionel Messi's goal separates the two teams at the half-time. The Argentina captain has been looking focused and hungry today.
Ever Banega, with his long balls and defence-splitting passes, has been the man for the Albiceleste in the first 45 minutes. The 29-year-old put a delightful long ball for Messi, who finished with three wonderful touches inside the box.
Jorge Sampaoli's men started on a nervous note, mishitting quite a few passes but Messi's goal changed that all. Nigeria were rattled and hardly created any chances after that.
Messi could have doubled the lead but a free-kick from the left of the D hit the crossbar after Nigeria's teenage goalkeeper Uzoho got a fingertip to it.
Meanwhile, it's 0-0 in Rostov-on-Don between Iceland and Croatia. It's all working in Argentina's favour so far.
2018-06-2700:14 (IST)
41 min: Armani finally gets into the game
Iheanacho runs one down the right, bidding to find Musa inside the Argentina box. However, Armani runs out of his position to hit the ball out of play. A throw-in for Nigeria.
2018-06-2700:05 (IST)
32 min: Free-kick for Argentina, Messi hits the bar
Free-kick for Argentina from a dangerous position after Angel di Maria is brought down by Balogun just outside the pass. Ever Banega put a beautiful pass once again, this time splitting the Nigerian defence.
Meanwhile, Lionel Messi hits the upright. A beautiful curling free-kick but the young Nigerian goalkeeper seems to have got his fingertip to it.
2018-06-2700:02 (IST)
28 min: Solid work from young Uzoho
Argentina could have had another one there if not for 19-year-old Nigerian custodian Uzoho's brave attempt. Messi slid from the right and slid one for Higuain who collides with the goalkeeper.
Good intensity this from the Albiceleste, Nigeria have hardly created any chance after conceding the early goal.
2018-06-2623:56 (IST)
23 min: Can Argentina get another one?
Nigeria's spirits have taken a hit after the Messi goal. Ever Banega's pass and the Argentina captain's finish has had an effect on them.
Meanwhile, here's how Diego Maradona, who is at the stands, celebrated Messi's goal. Any thoughts?
2018-06-2623:52 (IST)
20 min: It remains 1-0 as Argentina take control
Argentina are looking more relaxed and smiles are back on their fans' faces. In Rostov-on-Don, it's still 0-0 between Iceland and Croatia.
Messsssiiiiiiiiiiiiiiiiiiiiiiiiiiiiii

— Sourav Ganguly (@SGanguly99) June 26, 2018
2018-06-2623:49 (IST)
14 min: Goal! It's Messi who puts Argentina ahead
Argentina fans at St. Petersburg are buzzing. Their captain, who was under tremendous pressure, gives the Albiceleste the early lead.
After receiving a beautiful long ball from Ever Banega, Messi holds off a Nigerian defender and slot it into the net from the right. Delightful ball and an even better finish.
Goosebumps. What a pass from Banega, such ball controll by Messi and what a finish, wow. ? #NIGARG

— Luc (@DailyRender) June 26, 2018
Jorge Sampaoli looks pumped from the touchline. It's also the 100th goal of Fifa World Cup 2018.
2018-06-2623:44 (IST)
13 min: Argentina dangerously losing balls
Nicolas Otamendi nearly gifted Nigeria a goal when he lost the ball inside their half, allowing Musa to run down the middle. However, Javier Mascherano runs back to avert the danger.
2018-06-2623:42 (IST)
10 min: Messi making early impression
Nigeria looked threatening when Ahmed Musa, the man who scored the double against Iceland, took a shot from outside the box. The ball went over the post but there was action at the other end.
Messi goes down the left and tries to find someone inside the box but the ball is deflected off danger. Good signs for Argentina as their captain looks sharp and has already got a lot more touches than he had at the same time in the last two matches.
2018-06-2623:40 (IST)
8 min: First shot of the night from Argentina
Tagilafico hits the first shot of the match. He uses his left foot to hit a powerful ball wife off the post. That should settle the Albiceleste's nerves. They were poor with some misplaced passes early in the match.
2018-06-2623:37 (IST)
7 min: Free-kick for Argentina
John Obi Mikel brings down Lionel Messi who tries to dribble past the defenders in a bid to reach the box. Argentina take the free-kick from way outside the box short.
2018-06-2623:35 (IST)
4 min: Scrappy football so far
Both Argentina and Nigeria haven't settled into the game so far. Passes have been shoddy so far. Meanwhile, Jorge Sampaoli is wearing a nervous look at the touchline.
2018-06-2623:32 (IST)
1 min: Nigeria get the ball rolling in St. Petersburg
Huge support for Argentina. Will it be their night? Meanwhile, Nigeria have started proceedings in the much-anticipated clash.
2018-06-2623:28 (IST)
Huge contingent of Argentina fans in St. Petersburg
The Argentine supporters at St. Petersburg were buzzing even as their national anthem was being played. Emotions were running high at the stands. Huge pressure on Messi & Co. Can they take motivation from it?
Meanwhile, Argentina have beaten Nigeria all four times in their World Cup meetings. Can they do it once again today?
2018-06-2623:25 (IST)
Officials leading out the two teams!
It's finally time for the big match. Will it be Messi's last World Cup match? The Barcelona star has said he wouldn't be retiring from international duty without winning laying his hands on the elusive trophy.
The 31-year-old will be well-served if he can lead his team out of trouble today.
2018-06-2623:18 (IST)
Tremendous pressure on Lionel Messi once again
Messi is once again in the spotlight. Argentina were in danger of not even making their journey to Russia after poor performances in the qualifying campaign. However, their captain stood up and scored a hat-trick in their final qualifying match against Ecuador last year.
Can he repeat his performance again? So far, both Iceland and Croatia have crowded him out. What will Nigeria do today?
Can we imagine the knockout stages without Mess in it?
2018-06-2623:15 (IST)
Has Jorge Sampaoli lost the dressing room?
After their embarrassing defeat to Croatia last week, reports emerged that Argentine players wanted Jorge Sampaoli to not take tactical control of the match against Nigeria. However, both the coach and veteran Javier Mascherano have denied the rumours.
2018-06-2623:12 (IST)
The team news is in...
Argentina, as expected have made quite a few changes. Goalkeeper Wilfredo Caballero has been replaced by River Plate's young custodian Armani Franco. Gonzalo Higuain comes in for Sergio Aguero as the Abliceleste have opted for a 4-4-2 formation.
Meanwhile, Angel di Maria and Ever Banega are also back. Manchester United's Marcos Rojo also finds his place in a four-man backline.
Surprisingly, Paulo Dybala, who had looked dangerous after coming off the bench on both their previous matches, has been left out once again.
Nigeria are heading into the match on the back of a confident 2-0 win over Iceland. Leicester City's Ahmed Musa, who scored a brace in that match, starts.
Meanwhile, in Rostov-on-Don, Croatia, who have already qualified have made nine changes to their side. Yes, you read that right — NINE! Only captain Luka Modric and Ivan Perisic have survived from the squad that thrashed Argentina 3-0.
2018-06-2623:06 (IST)
How does the Group D table look like?
Argentina are currently languishing at the bottom of the Group D table. Iceland are on third with as many points as the Abliceleste but a better goal difference has given them the edge.
2018-06-2623:05 (IST)
Can Argentina avoid an early exit?
The pressure is once again on Lionel Messi, arguably the best player in the World Cup. However, the Barcelona forward has been a shadow of himself in the ongoing tournament and that is why the Abliceleste are facing the risk of an early exit from Russia.
Following the 3-0 defeat by Croatia, the 2014 runners-up need nothing less than a win in the last group match against Nigeria today to keep themselves in contention.
The result of the other Group D match between Croatia and Iceland also matters as a win for the latter will make things difficult for Jorge Sampaoli's men.