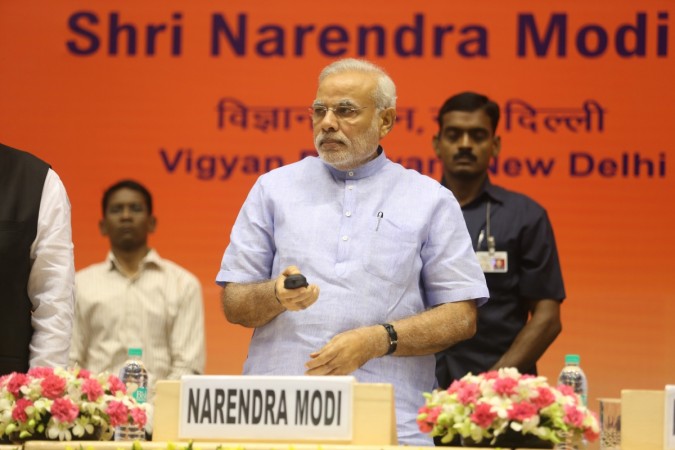 Prime Minister Narendra Modi addressed a BJP parliamentary meeting on Friday, urging the common people to make digital economy a way of life.
The Winter session has been a washout with both sides not permitting the other to speak. While the Opposition accused the government of being insensitive to the common man, BJP dug up AgustaWestland to charge Congress with. Friday is the last day of the session and both houses have been adjourned sine die.
Modi addressed the BJP members at the party meet and said that they should move ahead with those who are supporting demonetisation.
2:52 PM IST: Supreme Court leaves it to the Centre to decide on extension of the order on depositing old Rs 500 and Rs 1,000 denominations after Dec 30. Supreme Court has not granted any relief to district cooperative banks.
2:51 pm IST: SC bench transfers demonetisation matter to a five-judge Constitution bench and all matters pertaining to the matter in various HCs have been stayed.
2:50 pm IST: PM Modi's speech from BJP Parliamentary meet held earlier:
"We should go forward with whoever is with us. Want to thank Odisha, Bihar CM for supporting us & all people who have welcomed the decision."
2:20 pm IST: Lok Sabha adjourned sine die.
2:20 pm IST: "What kind of a fakir is this man (PM Modi) as he claims? He even got his mother to stand in a line for a photo-op," said Congress leader Renuka Chowdhury.
2:15 pm IST: The Rights of Persons with Disabilities Bill 2016 passed in Lok Sabha
2:00 pm IST: "We had already said that the President can't do anything. We believe we should go to the public directly," said Sitaram Yechury.
1:45 pm IST: "Is there any unity in the opposition? Parties move forward according to their convenience," said HD Deve Gowda, former prime minister. "This type of atmosphere I have never witnessed, I am sorry it is the people's money we are spending. I agree with him (VP Hamid Ansari) 200%, members should introspect."
1:13 pm IST: We told President that we wanted a discussion on demonetisation in Parliament, on problems faced by farmers, small traders, said Mallikarjun Kharge. The government failed completely in running the proceedings in the Parliament, he added.
12:37 pm IST: Telangana is the number one state when it comes to cashless transactions,Siddipet to be completely cashless, said KC Rao, chief minister Telangana. Demonetisation will curb black money, terrorism, corruption and fake currency. Good for nation building.
Meanwhile, Congress workers staged a silent protest against demonetisation in Hyderabad.
12:20 pm IST: Opposition leaders arrive at Rashtrapati Bhavan to meet President Pranab Mukherjee.
12:18 pm IST: "All arrangements have been made to avoid any problems at tolls including introduction of fast track stickers," Union Minister Nitin Gadkari.
"Farmers are committing suicide all over the country, government removed import duty on wheat; this is a devastating blow," said Rahul Gandhi.
11:52 am IST: PM Modi agreed that the farmers' situation is grave, however he just listened and did not say anything regarding loan waivers, said Rahul Gandhi.
11:46 am IST: We asked the prime minister to hasten relief for farmers and waive their loans, said Rahul Gandhi.
11:38 am IST:
11:34 am IST: All sections of the house (Rajya Sabha) need to introspect on the distinction between dissent, disruption and agitation, said VP Hamid Ansari.
11:26 am IST: Rajya Sabha adjourned sine die.
11: 24 am IST: "We met PM on problems faced by farmers,loans, suicides and MSP issue. PM has promised to look into the matter," Capt Amarinder Singh.
"Ruling party is fighting corruption and black money, while some opposition parties are fighting for the corrupt and terrorists," Venkaiah Naidu said.
11:23 am IST:
PM Narendra Modi attends Rajya Sabha #wintersession pic.twitter.com/nrc9XWB4Vj

— ANI (@ANI_news) December 16, 2016
11:22 am IST: We had earlier reported SC wants Centre to allow use of old Rs 500 notes for basic necessities, now the SC has said that it will try to pass an order today. Petitioners seek extension of exemptions including use of old notes at pharmacies, tolls, government hospitals.
11:12 am IST: Prime Minister Narendra Modi slammed Opposition for protesting against note ban, parliamentary affairs minister tells TV channels.
"We discussed the previous government's inability to create an SIT for black money... The Prime Minister said 'today, when we have started a movement to tackle black money, the Opposition is creating hurdles. For the Congress, the party interest is above the nation',"Ananth Kumar
"Earlier, the Opposition would join hands against the government over scams like 2G, Coalgate but now the Opposition is united against the government's steps to curb black money and corruption," the PM said.
11:10 am IST: PM said in meet Indira ji told YB Chavan that don't you want to contest polls? This was Congress plank but they did not implement, said sources to ANI.
11:09 am IST: Lok Sabha adjourned till 12 pm.
11:08 am IST: PM said in meeting that Wanchoo committee had given recommendation of demonetisation to Indira Gandhi ji, but she snubbed the report, according to sources.
10:56 am IST: Congress delegation gives memorandum to PM Narendra Modi on farmers loan waiver issue.
10:50 am IST: Amit Shah wants parliamentarians to visit constituencies to explain demonetisation, reported NDTV.
10:45 am IST: BJP leaders leave after the party's Parliamentary meet.
10:45 am IST: PM ne kaha aaj 16 tarikh Bangla vimochan diwas hai, tab vipaksh ne saboot nahi manga tha, lekin aaj vipaksh saboot mangta hai, said Ananth Kumar (PM said that the Opposition did not ask for proof on December 16, when Bangladesh got freedom from Pakistan, but it asks for proof now.)
10:41 am IST: PM appealed to people of India that digital economy should be a way of life, it will be transparent and effective, said Parliamentary Affairs Minister Ananth Kumar.
10:35 am IST: Congress leaders including Rahul Gandhi to meet PM Narendra Modi shortly.
10:15 am IST: Opposition leaders meeting underway in Parliament.
10:10 am IST: BJP chief Amit Shah appoints Ranjit Kumar Das as Assam BJP State President.
10:08 am IST: "Talk of respecting 'temple of democracy' was hollow. BJP's conduct has been the opposite, of avoiding & bypassing people's representatives," tweeted Sitaram Yechury.
10:07 am IST: BJP meet underway.
9:53 am IST:
Delhi: BJP Parliamentary Party meeting underway. (Inside visuals) pic.twitter.com/yoz4KXp8Tu

— ANI (@ANI_news) December 16, 2016
9:38 am IST: PM Modi, Amit Shah, Najeeb Jung arrive for BJP meet.
The Congress party said that the PM's address was a diversionary move. Rahul Gandhi is supposed to meet PM Modi on Friday in Parliament.
"Post demonetisation, there is a lot of concern among people on what to expect next; the PM might have a message for them. He may also want to respond to the charges levelled by the Opposition," a BJP functionary said.
The Opposition parties had earlier said that they would be meeting President Pranab Mukherjee to talk about demonetisation.
The Centre is facing questions in the Supreme Court as well after multiple petitions against demonetisation were filed. The court has asked the government why they won't permit use of older notes for paying medical bills at government hospitals.
Rahul Gandhi had accused the prime minister of corruption and had also said that if he speaks in Parliament there would be an "Earthquake". He later said that nobody is allowing him to speak.
While Gandhi said that his proof against Modi was "bulletproof", he has not revealed it yet. The BJP had attacked Gandhi, saying that nobody takes him seriously.
Prime Minister Narendra Modi slams Opposition for protesting against note ban, parliamentary affairs minister tells TV channels.