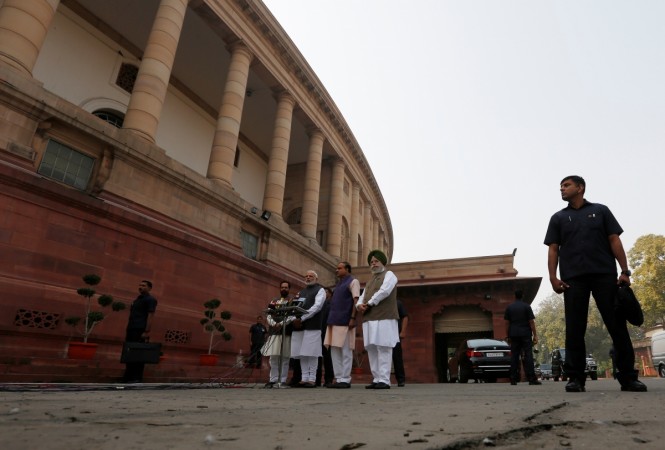 There was ruckus in Lok Sabha on Wednesday with Rahul Gandhi and Prime Minister Narendra Modi both present there.
The Opposition had raised questions about Kiren Rijiju's involvement in a scam and demonetisation, which led to the adjournment of the session.
With only two days left in the Winter Session, not much business is expected to be done in Parliament as the demonetisation issue has been the prime focus ever since the session began in November.
Watch Lok Sabha TV live here.
1:07 pm IST: TMC is conducting protests over demonitisation issue outside Reserve Bank of India in Kolkata.
1:05 pm IST: "Answers on Agusta have been given in Parliament before, rest inquiry is on. Government doesn't want to discuss demonitisation," said Mallikarjun Kharge.
12:35 pm IST: Lok Sabha adjourned for the day.
11: 30 am IST: After 37 days of demonetisation the people who are suffering the most are poor, labourers and farmers, said BSP supremo Mayawati. The black money the government collected must be deposited in accounts of poor. They must waive farmers' loans. They've fed big businessmen enough.
11:13 am IST: House adjourned until 12 pm.
10:31 am IST: "They're now using Kiren Rijiju's name, he is in no way involved. Face this Agusta heat first and respond to allegations," said BJP leader Venkaiah Naidu.
10:31 am IST: Opposition seeks meeting with President Pranab Mukherjee on demonetisation.
10:12 am IST: BJP to raise AgustaWestland issue in both the houses of Parliament today.
10:06 am IST: Trinamool Congress is protesting against demonetisation at Gandhi statue in Parliament.
10:00 am IST: "Apne netaon ki baatein, janata ki kathinayi seriously nahi lete wo (They don't take their political leader's opinions and troubles of the common public seriously). They are saying such things about Rahul Gandhi ji because they are hassled," Mallikarjun Kharge, Congress on MP CM's remark on Rahul Gandhi.
9:54 am IST: Opposition leaders' meeting in the Parliament begins.
9:52 am IST: "Nobody in the country takes Rahul Gandhi seriously," said MP CM Shivraj Singh Chouhan on Gandhi's allegations on the PM Modi.
9:40 am IST: Opposition leaders to meet in Parliament at 9.30 AM today.